Zanzibar: A taste of Africa's Spice Islands
Micah Spangler | 8/31/2016, 4 p.m.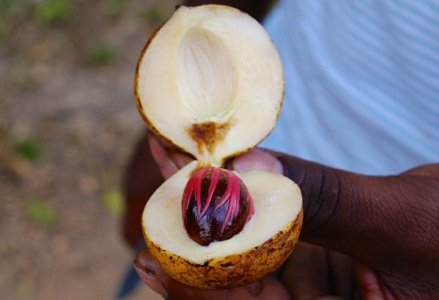 (CNN) — "Have you seen 'The Lion King'?"
The van turns off the main road and speeds down a dirt path shrouded in vegetation.
"That's where we are going! Hakuna Matata Spice Farm!" shouts my tour guide Aben Rehan, gripping the wheel and laughing as he repeats the Swahili phrase made famous by the 1994 Disney film.
I've been in Zanzibar for less than a day but have already heard "Hakuna Matata" -- meaning "no worries" -- yelled at me several times over.
I've quickly come to interpret the refrain as a local code word for, "Hey foreigner, come buy this thing."
But as the van comes to a stop at the entrance of the spice farm, there are no crowds of tourists, no pushy souvenir sellers. I am, as far as I can tell, the only person there.
A man named Haji introduces himself and his assistant -- a 15-year-old boy with a sharp knife sticking out of his back pocket.
"After this is over you will be the King..." Haji says. "The King of Spice!"
Spice trade
Spices have long been a pillar of Zanzibar's trade-heavy economy.
Zanzibar City, with its UNESCO-listed historic center Stone Town, is the heart of this Indian Ocean archipelago, positioned 25 miles east of the Tanzanian mainland.
The Portuguese and Chinese introduced spices such as garlic, cacao and chili to the islands several centuries ago.
But it was the Omani Sultan Seyyid Said -- upon moving the capital of his empire Stone Town in 1840 -- who fully exploited the potential of Zanzibar's tropical climate and incredibly fertile soil.
The Sultan mandated the establishment of clove plantations on both public and private lands and forced Zanzibar's slave population to grow and harvest the crops, fashioning the less than 1,000-square-mile archipelago into the world's single largest cloves producer.
Cloves were traded like gold at the time -- a staple prized not only for taste but as a common method of curing and preserving meats long before the advent of the refrigerator.
Modern Zanzibar
Today, however, Zanzibar is an economy in transition.
While cloves remain the archipelago's leading domestic product, its production numbers have been surpassed by other mega-suppliers such as Indonesia and Madagascar.
Zanzibar, as a result, has capitalized on its history as the world's "Spice Islands" -- a title also claimed by Indonesia's Maluku archipelago -- to become a popular destination for eco-tourists and food fans alike.
In a vacationer's paradise famous for World Heritage-standard Swahili architecture, near-perfect kite surfing conditions, and a 45-seat restaurant perched on top of a sea-bound rock, spice farms like Hakuna Matata top the list of Zanzibar attractions.
And there's a good reason for that.
Zanzibar spice tours provide an intense, detailed introduction to the region's rich botanical and cultural heritage, as well as its dark history as the Africa Great Lakes region's main slave-trading port.
Fragrant harvest
The Hakuna Matata spice farm is in Dole village, about nine miles northeast of Stone Town.