Zanzibar: A taste of Africa's Spice Islands
Micah Spangler | 8/31/2016, 4 p.m.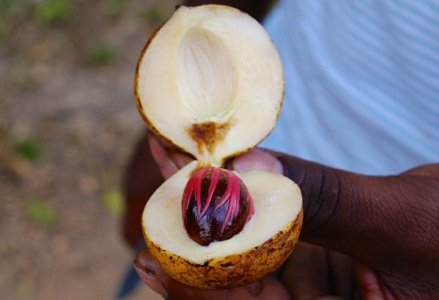 continued — Over the next two hours Haji guides me through the farm's thick maze of trees, bushes, and fragrant vines including vanilla, ginger, black pepper, turmeric, cinnamon, lemongrass, and more.
While it's clear the farm's main product is tours not exports, nothing about the experience feels artificial.
Each spice comes with its own story -- how it arrived on the island and an explanation of its uses, both common and uncommon.
"A lady takes this and the shyness goes away," Haji says as he cracks a nutmeg seed and displayed the red-veined fruit inside. "Shininess?" I ask, mishearing the word.
"Shyness but just for the lady. She takes it when she wants to celebrate some way ... or wants to have a big family. This is like Viagra for her," he explains plainly. "You get it?"
"I got it."
As the tour comes to an end, Haji presents me with a delicious traditional meal prepared with many of the spices we have seen over the course of the afternoon, including clove-infused rice, creamed spinach, and pickled onions and tomatoes topped with biryani sauce.
"Eat as much as you want," Aben says, joining us on a plastic mat spread across the ground. "This is all for you!"
As we finish our meal, locals sit around trading jokes and fashioning hats out of bamboo leaves.
A few others further in the bush sing a song in Swahili, the only part of which I understand is the chorus line of "Hakuna Matata."
Now, the mantra strikes me as joyous. No longer an urgent plea, its smooth rhythms meant "no worries" and nothing else.
Arranging a Zanzibar spice tour
A spice tour is one of the most popular attractions in Zanzibar and, as a result, there's a surplus of companies to choose from when planning your visit.
However, the difference between good tour companies and bad is readily apparent, says Aben Rehan, from Jambiani-based Mambo Poa Tours.
"We have big [tour] companies and they have many, many weaknesses. They choose inexperienced guides that have a lack of information but people don't know."
"This place is full of natural beauty, so whichever environment visitors face, they will like. Even if staff are crazy."
In other words, it's easy to let Zanzibar's lush surroundings convince you you're getting a good tour when you really aren't.
It's best to look for a company that's going to provide the added history and context that will make your trip extra-special.
A private tour with Mambo Poa Tours costs $30, including transportation and lunch. The price of a shared tour is $20 per person.
Other major spice tour operators include Colors of Zanzibar, which runs outings for $35 per person and Pure Zanzibar, which is $40.
Micah Spangler is a freelance journalist based in Washington, DC. His work has appeared in CNN, The Daily Beast, VICE, Maxim, The Week, and more.