11/30/16: SWAC Round Up - Men's & Women's Basketball
Phinesse Demps | 12/1/2016, 12:42 p.m.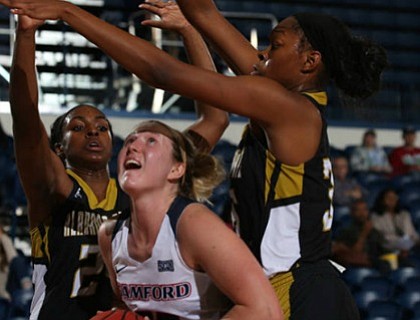 continued — Ugba was fouled as he made a layup with 1:22 left, but he missed the free throw and the Tigers trailed 74-73. Marcus Weathers missed two free throws but, after Ribiero's offensive foul on the other end, his dunk -- and a layup by Harouna -- made it 78-73 with 12 seconds to go.
Ugba and Ervin Mitchell each scored 21 points, with Ugba adding 16 boards and five blocks.
Memphis 84, Jackson State 69 | Box Score
MEMPHIS, Tenn. - Jackson State couldn't sustain a second-half comeback attempt during a 84-69 defeat at MemphisWednesday night.
Down 20 at one point early in the second half, the Tigers managed to shrink to eight, 67-59, after Edric Dennis hit back-to-back 3-pointers midway through the final period. The Tigers soon had the lead back up to double-digits and JSU was unable to overcome the deficit.
Dennis matched a career high in scoring and led Jackson State (1-6) with 21 points and Yettra Specks added 19 with six assists. Paris Collins chipped in 12 points and eight rebounds.
The trio combined for 19 of Jackson State's 26 made field goals.
San Francisco 78, Alcorn State 65 | Box Score
SAN FRANCISCO, Calif. - Reginal Johnson scored 15 points for Alcorn State in the Braves' 78-65 loss at San Francisco.
Alcorn State matched San Francisco on the glass (42-42) and forced more turnovers (14-10), but the difference was that the Braves struggled to put the ball in the hoop. Alcorn Stateshot 4-of-20 from deep and hit just 36 percent of its shots. Meanwhile, San Francisco made more than half of its attempts and were 8-of-19 from three-point land.
Johnson was a rebound shy of a double-double. Marquis Vance scored 10 points.
Compiled by Phinesse Demps for HBCU ROUND-UP; Contact Phinesse Demps 410-831-5605. Follow on Twitter: @pdemps