The world's best Christmas markets
Joe Minihane | 12/5/2016, 6 a.m.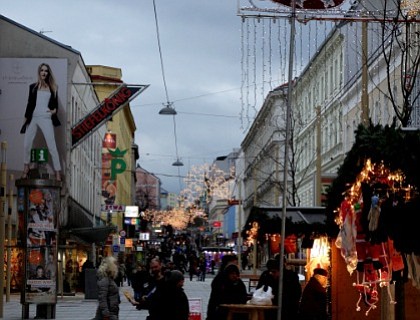 (CNN) — Christmas shopping doesn't have to mean joylessly battling through department store crowds or trawling the Internet for bargains.
These Christmas markets are the places to head for traditional gifts, glasses of glühwein and that unbeatable festive feeling.
Gendarmenmarkt, Berlin, Germany
Festive fanatics could visit a different Berlin market for all 12 days of Christmas.
But if there's only time for one, our pick is undoubtedly Gendarmenmarkt.
The imposing architecture of the Deutscher Dom and Französischer Dom loom over classic wooden huts where visitors can steel themselves before shopping with delicious sausages and warming cups of mulled wine.
Once fortified, vast crafts tents await where everything from original paintings to wood carvings can be found for sale.
For off-kilter Christmas presents, it's a struggle to match this gem in the German capital.
What makes it special:
Come for the first-rate shopping, but make sure to stick around for the nightly concerts, ranging from choral to jazz. No out-of-tune carols here.
Strasbourg, France
Strasbourg is home to one of Europe's oldest Christmas markets, with the first edition taking place in 1570.
Today there are 10 locations with 300 stalls, meaning it's easy to spend the best part of a week here indulging in end-of-year festivities, picking up decorations and presents and drinking local Alsatian wine.
Before getting lost down Strasbourg's narrow alleyways and beautiful squares, visitors should be sure to head to Place Kleber, where they'll find the Great Christmas Tree, a towering effort that puts the spruce at New York's Rockefeller Center to shame.
What makes it special:
Each year Strasbourg has a "guest" country village. In 2016, Portugal takes pride of place, with stalls selling delicious pastéis de nata (custard tarts) and bottles of port.
Viennese Christmas Market, Vienna, Austria
Few cities steep themselves in the festive spirit like Vienna.
The Austrian capital's first Christmas Market was held in 1298 and today the city has more than 20 events to choose from.
First timers, though, should make a beeline for the Viennese Christmas Market, which takes place in front of City Hall.
It runs until Christmas Eve, with 151 stalls serving everything from boozy Christmas punch to gut busting Austrian sausages.
There's a huge ice rink for skating, reindeer rides for kids and a classic nativity scene.
What makes it special:
This might be the most traditional Christmas market going, but be sure to try out curling on the dedicated ice rink.
A bizarre and brilliant winter sport to keep off the chill.
Grand Christmas Market, Montreal, Canada
Now in its second year, Montreal's Grand Christmas Market takes its inspiration from Europe's biggest festive events.
Running from December 2 to 24 on the pedestrian thoroughfare of Ste Catherine Street, 2016 sees the event triple in size, with 60 wooden houses plying their wares, from warming winter drinks to essential Christmas handicrafts.
The market is especially good for kids, with an elves' workshop, Santa's sleigh and even an igloo.