Obama's gift to Trump: A 'pretty solid' economy
Heather Long | 12/6/2016, 6 a.m.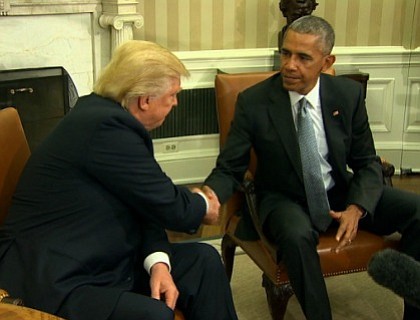 continued — Wall Street has given these plans a big thumbs up. The stock market rallied to record levels in November after Trump won the presidency. Business and consumer confidence has also shot up since the momentous win.
The big problem for Trump
There's just one catch: The U.S. economy has less potential to grow now than in the past, argues economist Ashworth.
Two key factors drive growth: More people entering the workforce and workers being more productive on the job.
Right now, the U.S. has an aging population and little appetite for much more immigration, so it's hard to see more workers flooding into the workforce. Trump likes to claim 94 million Americans are out of work and need jobs, but that's not correct. That number includes retirees, people in school and those who have chosen not to work in order to take care of their family.
In reality, about 2.1 million lost their jobs in recent years and appear to have simply given up looking. They are the hidden unemployed. Getting them jobs won't be easy as many jobs today require specialized skills.
Trump's big hope is to get productivity up by encouraging businesses to invest more in their factories, research and workers. Business investment has been one of the missing parts of the recovery.
"We're not quite there yet, but we've made a considerable amount of progress," says Ashworth.