Mikulski Delivers Summing Up Speech on Senate Floor
Courtesy of C-SPAN | 12/8/2016, 8:36 a.m.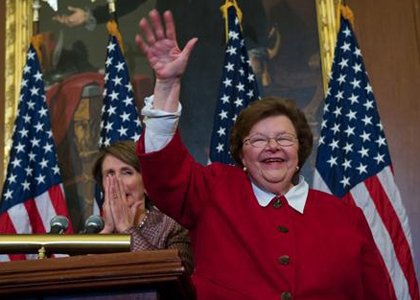 WASHINGTON, DC — On Wednesday, December 7, 2016, U.S. Senator Barbara A. Mikulski (D-Md.) spoke on the Senate floor summing up her service in the United States Congress on behalf of the people of Maryland and the nation.
Sen. Barbara Mikulski (D-MD) delivered her final remarks on the Senate floor. She talked about her 45 years in elected public office and thanked her staff, constituents and more.
Mikulski said: "I want to rise today to thank the people of Maryland. I want to rise to thank them for their vote of confidence. When people vote for you, it's not only that they're sending you to Washington or sending you to City Hall. They're giving you a vote of confidence that you will be their voice, that you will be their vote, that you will be at their side and on their side."
Mikulski's full farewell speech is available here: