Volunteer barbers give free haircuts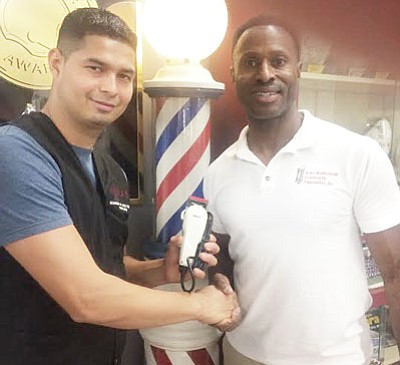 continued — According to Cradle, the retail price of the Wahl hair clippers is estimated at $45 per unit. Five free tapering clippers have been awarded to barbers so far. Cradle added that barber and beauty school students who travel to homeless shelters on a monthly basis to volunteer to cut hair free of charge, or who may opt to have people come to them, can qualify for the program. Others may commit to serving the homeless and college students for no-charge haircuts, as a part of an upcoming event. Cradle said that he will personally deliver clippers, or ship them to selected applicants who are located any place within the U.S.
Cradle is optimistic that Clippers for a Cause will promote more volunteerism in the barber industry beyond just what he can do on his own.
"For me it's another way to get make grooming services accessible," Cradle said. "Up to this point, I've put together projects that were installed…, and I did do the case management, and I did do the pop-up shop, but I added this kind of promoting volunteerism type of method, because I have to think of ways to sort of expand what I do in a most cost effective way. So it's more of like an incentive-based project."
To find out more about the Clippers for a Cause program requirements or to apply for free tapering clippers, visit: http://therbcf.com/clippersforacause/. Applications will be reviewed until December 31, 2017.