Holiday Celebrations with West African Cuisine
Brenda Bowe Johnson | 12/23/2016, 6 a.m.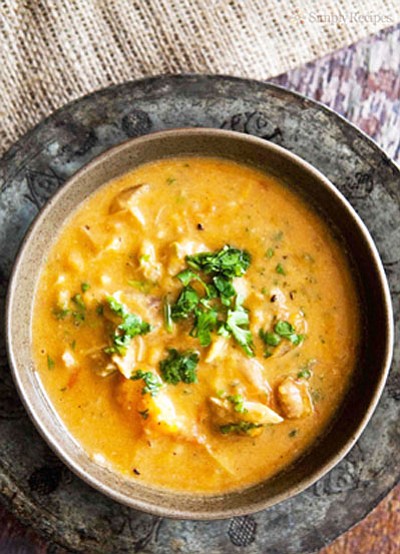 BALTIMORE — As people emigrate from various countries to the United States, they bring many of their traditions and cuisine with them. Such is true of those coming from West Africa.
West Africa is made up of sixteen nations, including: Benin, Burkina Faso, Ivory Coast, Gambia, Ghana, Guinea, Guinea-Bissau, Liberia, Mali, Mauritania, Niger, Nigeria, Senegal, Sierra Leone, Togo, and the Islands of Cape Verde.
With the large numbers of residents from these African nations now living in the Baltimore Metropolitan area, many stores and markets now carry spices and specialty foods and restaurants offer many authentic dishes.
Celebrations always include lots of food and Christmas celebrations are fun and happy times with many parties and family gatherings. People begin visiting loved ones a few days before Christmas to wish each other blessings and joy. The celebrations typically include feasts, dancing, singing and church services. Christmas Eve is often brought in with fireworks or candle lighting and parties.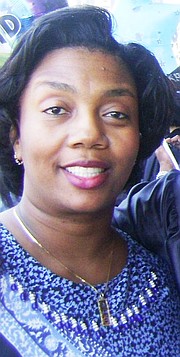 Ghanaian Esme' Bentil and local caterer Judith Britton recently prepared some West African dishes for a gathering. The following dishes are usually a part of most holiday dinners: Chicken Peanut Soup from Ghana, Jollof Rice, Liberian Collard Greens and Cabbage, and Baked Fish.
Esme' Bentil 's Chicken Peanut Soup from Ghana
1 cup smooth peanut butter
2 15 oz. cans of crushed tomatoes
1 tsp. light brown sugar
1/2 tsp. cayenne pepper
2 cloves of garlic cloves, finely chopped
1 green bell pepper, finely chopped
2 small onions, finely chopped
1 tbsp. extra-virgin olive oil
1/2 tsp. curry powder
1 tsp. paprika
Freshly ground pepper to taste
Seasonal or creole seasoning to taste
Chicken parts at least six drum sticks and six thighs
2 stalks celery, finely chopped, use leaves for topping
Use fresh cilantro and chopped peanuts for topping
Add eight cups of water and six cups of chicken broth to a six-quart pot. Once the water is warm, add the peanut butter and stir until the peanut butter dissolves. Next, add all of the other ingredients and stir. Add chicken now and bring to a boil then turn the heat down to simmer until the chicken is cooked. Cooked rice can be added to your bowl of soup if desired.
Jollof Rice
Jollof rice is one of the most common West African dishes. It is served throughout the region, including: Senegal, Gambia, Nigeria, Sierra Leone, Liberia, Togo, Cameroon and Ghana.
1 red bell pepper
1 yellow bell pepper
1 orange bell pepper
2 medium to large onions
3 bulbs of garlic
2 chicken bouillon cubes
2 teaspoons salt
1/2 Scotch bonnet pepper
1/4 pound plum tomatoes
1/4 cup vegetable oil
1 teaspoon dried thyme
1/2 teaspoon ground ginger
1/2 teaspoon cayenne pepper
1/4 teaspoon smoked paprika
1 heaping teaspoon tomato paste
Generous 2 cups chicken broth
1 teaspoon red palm oil
1 1/4 cups white basmati can rice
Preparation:
Add peppers, onions, garlic, scotch bonnet pepper, tomatoes and 1/2 cup of water to a blender and blend together. In a large pot add oil and spices, saute' for 1 minute. Add contents of blender and cook 5 minutes, stirring frequently. Add the tomato paste, salt, palm oil and bouillon cubes, cook for another minute or so, then add rice and chicken stock to the pot. Bring to a boil until most of the liquid has evaporated. The pot should have a tight-fitting lid. Stir gently so that all the rice is coated with the red sauce then reduce the heat to low.