Holiday Celebrations with West African Cuisine
Brenda Bowe Johnson | 12/23/2016, 6 a.m.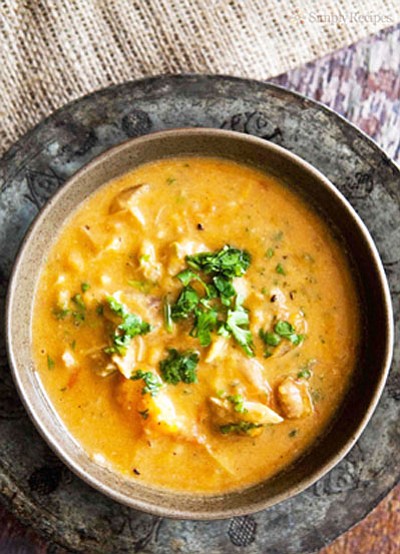 continued — Cover and simmer for 10 minutes. Open the lid and stir gently again. It is important to get under the center of the pan so all the rice cooks at the same rate. Cover and continue to simmer for another 10 minutes. Open and stir a final time, then simmer a final 10 minutes.
Then fluff with a folk to separate the rice, slowly working inward from the edge of the pan in a swirling motion. If the rice is not completely cooked, add the ½ cup of stock, stir gently, then place back over low heat for 10 minutes. Spoon the rice out onto a dish and serve.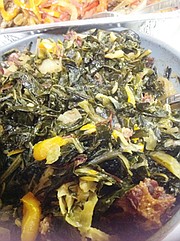 Liberian Collard Greens and Cabbage
Ingredients
6 slices bacon
1 bunch collard greens (about 2lbs)
1 small head cabbage chopped
1 smoked turkey neck for flavoring
1 pinch soul food seasoning or to taste
1 pinch crushed red pepper to taste
1/3 cup vegetable oil
3 cups water, more if needed
3 cubes chicken bouillon
Salt and ground black pepper to taste
Place the bacon in a large deep skillet and cook over medium to high heat— turning occasionally until brown, about 10 minutes. Drain the bacon slices on a plate lined with paper towel and crumble. Cook smoked turkey necks in water for 30 minutes. Add collards greens and cabbage, vegetable oil, water and chicken bouillon in a large pot over medium heat. Simmer until greens are wilted, about 10 minutes. Stir in bacon, soul food seasoning, crushed red pepper, salt and black pepper. Cover and simmer until greens are very tender about 90 minutes. Add water if the mixture becomes too dry.
Whole Baked Fish
1-2 large white fish (approx.2 lbs or more ,stripped sea bass or red snapper)
1-2 lemons
1/2 bunch parsley
1/2 bunch basil
4-5 garlic cloves
2 onions sliced
1 red pepper
1 yellow pepper
1 bouillon cube
1/2 - 1 cup water
Salt and pepper to taste
Preparation:
The whole fish must be gutted and scaled. Make three - four diagonal cuts in each side of the fish. Rub the fish inside and out with olive oil, salt and pepper, squeeze lemon over it. Place fish in a foil lined pan or roasting pan. Add parsley, basil, and garlic cloves inside cavity.
Add bouillon cube and water to the pan. Cover fish with sliced onions, and red and yellow peppers. Bake in the oven at 375 degrees for approximately 40 minutes or more depending on the thickness of the fish.
Enjoy your celebration!