10 wellness retreats to clear your head for 2017
12/26/2016, 6 a.m.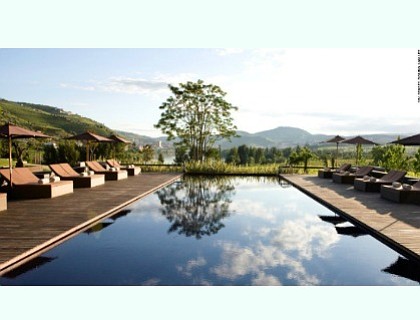 (CNN) — However lovely, the holidays tend to leave us feeling frazzled. Most of us will cap off the year with some combination of family drama, event overload, social media trolling and political uncertainty -- not exactly a recipe for clearheadedness.
According to a 2015 Nielsen study, people generally turn to gym memberships for restoration, but no amount of weight loss is going to help us get our heads on straight. Sometimes, the only answer is a solid break from our everyday life to consciously focus on our personal development.
For just this reason, Tom Marchant, co-founder of travel company Black Tomato, reports that this year has seen an uptick in wellness-inspired travel.
"Mindfulness and emotional well-being have become increasingly important in a time when constant connectivity can leave us exhausted and overstimulated," he says. "Being mindful and traveling go hand-in-hand, as one is encouraged to be present in the moment in order to fully switch off and appreciate [new] surroundings. It's important to realign before heading into the new year [for] a clean slate."
We can't change the state of the world or our families, but we can change our mindsets.
So, in lieu of a "Men In Black"-style "neuralyzer" memory wipe, some mind-body-soul work seems key to starting the new year fresh.
Here, we've uncovered 10 holistic wellness retreats around the world that go beyond boosting our physical health: These programs promote mental focus, inner calm and a chance to soul search, so we can start 2017 with our best feet forward.
Stress-Free Success retreats
Where: Six Senses Douro Valley, Lamego, Portugal
When: 1/26-1/30; 3/26-3/30
What: This 19th century manor house, overlooking rolling hills and a flowing river, will host two four-day retreats in early 2017. Created by stress-reduction specialists Working In Balance, the idea is to teach enduring techniques for handling physical, psychological and external influences.
The experience -- which is heavily influenced by Eastern beliefs -- includes an individual wellness assessment, daily seminars, Tai Chi, meditation and yoga, as well as fitness classes and daily massages. This is especially ideal for finding work-life balance or for those contemplating a career change.
Don't miss: Make use of the wine library and terrace -- and tastings with local sommeliers -- in this beautiful vino region.
From $1,670 per person
Rejuvenate Immersion
Where: Amanbagh, Rajasthan, India
When: Now through 5/31
What: When one of the world's most luxurious and meticulous hoteliers introduces a wellness program, it just has to be legit. The latest in the Aman Wellness portfolio is found at lush Mughal-inspired Amanbagh in India's Aravalli Hills.
Reflective of local culture, the seven- to 21-day retreat revolves around anti-aging and preventive medicine drawn from the ancient teachings of Ayurveda. An onsite Ayurvedic physician identifies each guest's dosha (or Ayurvedic type) and creates a personalized program based on that information, including purifying body treatments and a meal plan.
Certain experiences are unique to this part of the world: Yoga and meditation sessions may take place in a 17th century temple in an abandoned city; hikes are through narrow gorges and above blocks of marble, polished over centuries. The goal is deep transformation and purification at a cellular level. As the days pass, everything from your memory to your senses to your physical endurance is meant to improve.