HBCU MEAC Men's Basketball Recap: December 27
Phinesse Demps | 12/28/2016, 12:29 p.m. | Updated on 12/28/2016, 12:29 p.m.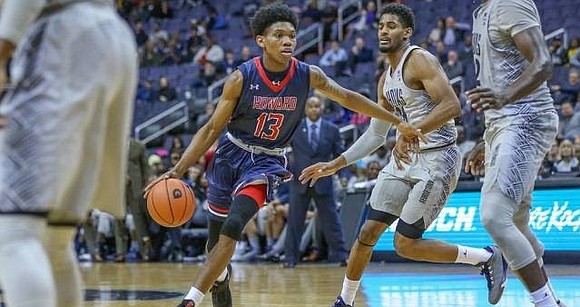 BALTIMORE — Courtesy MEAC Media Relations
Wed, December 28, 2016
Virginia Commonwealth 85, Howard 51
RICHMOND, Va. - Charles "CJ" Williams again led his team with a game-high 20 points and Cameron Lewis came off the bench to score a career-high 12, all in the second half, but it was not enough to overcome a dominating performance as VCU ran by Howard 85-51 in a non-conference game at the Siegel Center before a sellout crowd of 7,637.
The Rams (10-3) bolted out to a big lead early as Jonathan Williams and Jequan Lewis combined for 27 points, outscoring the Bison (3-10), 27-22 en route to a 48-22 halftime advantage. VCU shot 55 percent (17 of 31) from the field, forced 12 turnovers that they converted 13 points.
Howard could not get anything going offensively as the Rams pressure took everyone out the offense, except Williams, who tallied 13 of his points on 4-of-6 shooting, including 2-for-2 from beyond the arc. The rest of the team made only 2-of-14.
A native of Richmond, Williams finished 6-of-14 from the field. The 6-5 talented freshman guard has now scored in double figures in five straight games and is coming off back-to-back MEAC Rookie of the Week honors.
VCU continued its scoring attack in the first 10 minutes, holding the Bison to only six points while several players took turns scoring. The Rams reserves outscored Howard a whopping 42-19.
The Bison committed 21 turnovers and fatigue became a problem as players who are usually reserves, logged season-high minutes.
NEXT UP: The Bison travel to Boston, Mass. to take on Harvard on Friday at 7 p.m.