How he became 'The Eyes of Baltimore'
Devin Allen was an amateur photographer when protests began in Baltimore following the death of Freddie Gray
Chris Boyette | 2/3/2016, 3 p.m.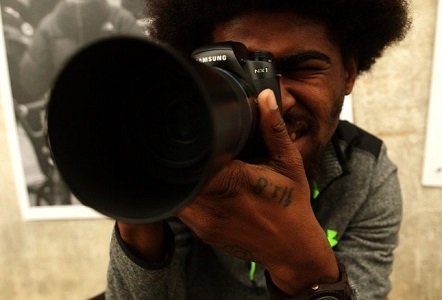 (CNN) — Demonstrators marched through the streets of Baltimore, as they had for the past week. Devin Allen, then an amateur photographer, was among them.
Little did he know he was about to take a picture that would change his life and show the world what he was seeing in Baltimore.
On April 25, 2015, the crowd marched from Gilmor Homes in the Sandtown neighborhood where 25-year-old Freddie Gray had lived and had been arrested. He was put in a police van on April 12 and died of a spinal injury one week later.
They marched to Baltimore City Hall. Mayor Stephanie Rawlings-Blake said most protesters were respectful but a "small group of agitators intervened."
They marched through downtown toward the city's famous baseball stadium, Camden Yards. When demonstrators got to the stadium, tensions escalated and some people threw what appeared to be water bottles and other objects at the police, who wore helmets and stood behind metal barricades.
Allen said he heard racial slurs yelled at protesters from baseball fans, which he believed sparked the violence that would follow.
"This is where I snapped the cover of Time magazine, this is where they destroyed the police cars ... this is where everyone was completely boxed in by the police officers," recalled Allen.
His blunt image from that day, of an African-American man running in front of a phalanx of police officers in riot gear, is one of only three photos by a nonprofessional photographer to ever grace the cover of the magazine. It went on to be chosen by the editors of Time as one of the top 10 magazine covers for 2015.
"It was a crazy day. It was the beginning, and this day changed my life," Allen said.
That day also changed the way he perceives the world, the style of his work and inspired him to pursue photojournalism, he said.
"[It was] a spark. A new spark, a new light, a new set of eyes that my work has been directed through following this story. Not just the story of Freddie Gray, but the story of Baltimore also," Allen said.
On April 25, Allen felt his calling stronger than ever. He said he could hardly believe so much was happening -- the police, the crowds -- and there he was, snapping photos. At one point in the chaos, Allen was nearly trampled underfoot, but he said a police officer helped him get up and out of the way.
Allen said he wanted to get his photos showing what was happening out to his community as soon as possible to "beat media to the punch," so he uploaded them on social media.
Allen's photography, posted to his Instagram and Twitter accounts, became a major news source for many in the Baltimore community.
"The next thing I know, the pictures just went viral, within an hour. I saw like a thousand retweets; everyone was reposting it," he said.
'I was going to capture every moment'
Allen grew up in Baltimore, not far from Gray. Allen described his hometown as a small city where family and neighborhood connections run deep.