Toyota donates boots, socks to underserved area residents, homeless families
Andrea Blackstone | 2/12/2016, 6 a.m.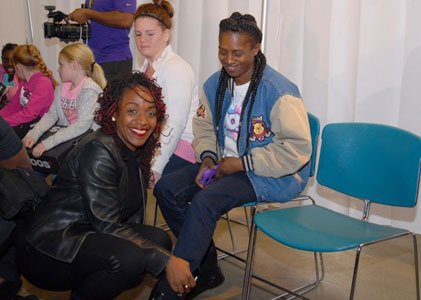 BALTIMORE — On February 6, 2016, approximately 220 children, women and men showed up at The Salvation Army's (TSA) warehouse on E. 29th Street in Baltimore to receive new winter boots, socks and a catered lunch through Toyota Motor North America's Walk In My Boots community outreach project.
Pre-selected homeless families, low-income individuals and children in need received two essential items that will help their feet to stay dry during the remaining winter months. Additionally, Meshelle, the Indie-Mom of Comedy who is a Baltimore native shared inspirational words. Toyota donated $15,000 to TSA of Central Maryland to support their work of providing for children and families in crisis.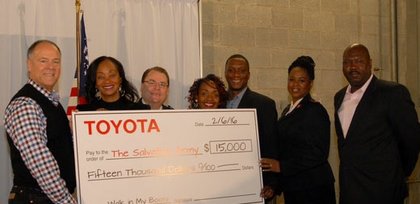 Celeste Hamilton, mother of an eight-year-old boy, received a surprise phone call from TSA informing her that she had been selected to participate in the event. Hamilton left a homeless shelter just two months ago. She remarked that she felt overjoyed and grateful to be included in Toyota's generous effort.
"I was previously (living) in one of the shelters. I'm no longer in there anymore, but they still called me because I had signed up for it," Hamilton said. "There are good corporations that do give back a lot, you just don't hear about it every day."
Michael Rouse, vice president of diversity, philanthropy and community affairs for Toyota Motor North America explained that the "Toyota Walk In My Boots" project successfully kicked off in Detroit five years ago. The company wanted to do something for the community there in conjunction with the North American International Auto Show. This year, while bringing the expanded philanthropic event to Baltimore for the first time, "Toyota Walk In My Boots" was held in conjunction with the 2016 Motor Trend International Auto Show
"In wintertime, people think about getting a coat and a hat, but people oftentimes forget about their feet and heat can leave your body through your feet, just as easily as it can through your head, so we came up with the idea of giving warm socks and warm boots," Rouse said. "We look for communities where we think there is a need, and this area is one of those communities that was identified, and so we're here."
Rouse added that more than 2,000 pairs of boots have been given away since the project has been implemented in other cities, such as Chicago and the District of Columbia.
Alva P. Adams-Mason, director of African American business strategy for Toyota, founded the "Toyota Walk In My Boots" project.
"I really, really enjoy being able to give back and so Toyota gave me the wherewithal to be creative and come up with that ("Toyota Walk In My Boots") and they're very supportive," Adams-Mason said, "I get such an adrenaline rush out of this. I'm just overjoyed all of the time. Sometimes I just think about it and it brings me to tears, because it is so important as we move along in life that we think about others, and that we bring others along with us."
Major Gene A. Hogg, area commander of TSA of Central Maryland, said that when Toyota called about giving away winter boots and socks, he welcomed the offer to help families that are assisted through the faith-based nonprofit organization.
"I think it's an incredible blessing for the family, because you can go out and spend $30, $40 a pair for a boots. And if you've got four or five children, and you're already trying to put food on the table and pay rent, how big of a blessing is that?" Hogg said with a big smile. "I want to say thank you to Toyota for doing this for us. It is an incredible blessing for us."