First African-American driver leads Monster Jam into Baltimore
Stacy M. Brown | 2/19/2016, 6 a.m.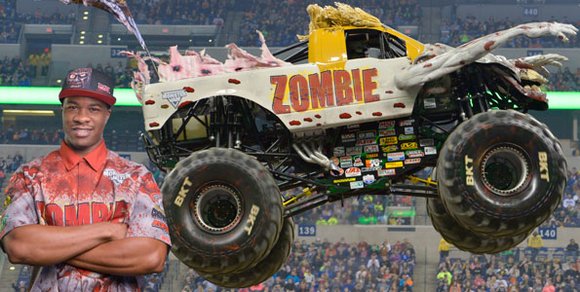 It's an unusual sight that gets both five-year-olds and 95-year-olds alike excited.
More than two million pounds of dirt fills the arena, the noise is almost deafening as the big trucks and their drivers compete for supremacy and the adulation of fans everywhere.
Monster Jam is set to invade the Royal Farms Arena in Baltimore from February 26 to February 28, 2016.
The event will feature El Toro Loco with driver Mark List; Grave Digger driven by Cole Venard; Max D driven by Jared Eichelberger; Monster Mutt Dalmatian driven by Cynthia Gauthier; Monster Mutt Rottweiler driven by Daron Basl; NEA driven by Aaron Basl; Scooby-Doo driven by Brianna Mahon; and Zombie whose driver is Bari Mussawir.
"I'm excited to be coming back to Baltimore. It's a unique town with the harbor there and all the good restaurants," said Mussawir, 35, the 2012 "Young Guns Shootout" champion and the first African-American driver in Monster Jam.
"The fans in Baltimore can expect 110 percent. This is a tour where we are on track for the points championship and the winner gets an automatic bid to the World Finals which are held every year in Las Vegas," Mussawir said.
The Monster Jam World Finals are held in March and consist of racing and freestyle competitions. Drivers are selected based on the points they earn during the season.
Competitors earn their stripes much to the delight of fans on a dirt-filled race track that starts in the parking lot and includes a long straight-away where speeds reach over 70 miles per hour.
The drivers competing in freestyle face a track that's considered extreme and consists of numerous obstacles.
The trucks for Monster Jam reportedly measure in at about 12-feet tall, 12-feet wide and 20-feet long and weigh in at 10,000 pounds. They reach top speeds of 70 miles per hour and undergo a 50 plus point safety inspection before each show.
"My preparation is eating healthy and getting a lot of exercise during the week because we have to be physically fit," Mussawir said. "We also have to be mentally prepared to go out and perform for the fans."
One of the outstanding features of Mussawir's truck, Zombie, is how the arms flap during his ride. He said fans have grown to love it.
"The first time I climbed into the truck and saw it had arms, and I started moving it, I was like, 'Whoa, look at these things waving around as I'm driving it.' The people really react to it," he said.
Musawwir said his passion for automobiles developed earlier in his life. Growing up in Detroit, he said he was a fan of monster trucks and at the age of six, his mother took him to his first Monster Jam show.
After graduating college in 2002, Musawwir met Scott Hartsock, a Monster Jam driver who would mentor him. In 2006, he won a freestyle competition at Diggers Dungeon in North Carolina, the home of the famed Grave Digger Monster Truck. From there, he was
invited to participate in a private Monster Jam truck test session.
Mussawwir's career began in 2010 and he won Rookie of the Year.
"Winning that award really boosted my confidence. This is something I've always wanted to do," he said. "I went to my first show when I was six and now being awarded Rookie of the Year with my mom, dad, wife and family in the audience was kind of like the icing on the cake. I was like, 'I've arrived' and it was a confirmation for me."
For more information or to purchase tickets, visit www.royalfarmsarena.com or www.monsterjam.com.