Thomas Moorehead rolls into the world of ultra-luxury
Eric Easter | 2/19/2016, 6 a.m.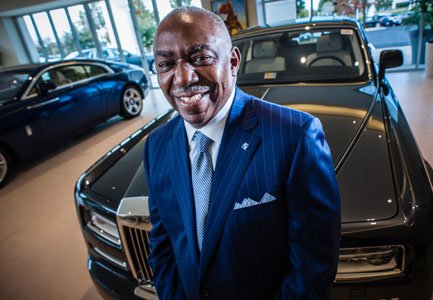 (URBAN NEWS SERVICE) — The world's first African-American Rolls Royce car dealer got there through hard work and perseverance, but only after disappointing his family.
Thomas Moorehead's parents thought the key to respectability was a Ph.D. Both teachers, they lived by an old-school axiom that the one thing you never can take away from a man is an education.
Yet, with just a few credits and a dissertation to go, Moorehead abandoned his doctoral program, and his parent's wishes, for an uncertain shot at learning the automobile business from the bottom up.
It was a leap of faith, an offer from a fraternity brother and mentor, James Bradley of Bradley Automotive Group, who promised to make Moorehead a millionaire in five years — if he took the risk. But it wasn't the promise that attracted Moorehead: "Teaching was a guarantee of a long career, but I always had a passion for business," he says.
His road to success required two years of apprenticeship with Bradley, the mortgaging of his home and the depletion of his savings to enter a training program, then eventually owning his first dealership, selling Buicks in Omaha, Neb.
Moorehead built a strong reputation as someone dedicated to customer service, an essential value of the Rolls Royce brand. That reputation, and his sales record as owner of Sterling BMW in Virginia, sparked an invitation from Rolls Royce Motor Cars to join the exclusive club of only 33 dealers and 130 dealerships around the globe, an opportunity he accepted without hesitation.
The new store, Rolls Royce Motor Cars of Sterling, is the sole Rolls Royce dealership in greater Washington, D.C. and covers much of the mid-Atlantic — from Virginia to southern Pennsylvania. It sits just across from Sterling BMW and Mini, his other successful dealership, a fact that fills him with immense pride.
"These are the best cars in the world, and I'm honored to be able to bring them to my customers," Moorehead says as he looks across the lot.
His dealerships thrive in one of the region's wealthiest communities, filled with prosperous government contractors, newly minted millionaires from tech start-ups and the Washington Redskins' nearby training facility.
But the opulence that Moorehead markets is a long way from his roots in Monroe, Louisiana, a town of 38,000 with a historic poverty rate twice the already poor state's average.
During his youth, Monroe Colored High was the sole choice for black students in that segregated city. It was a time when, according to Moorehead, families like his could "offer you their good name, but not money."
That upbringing drives a sense of humility that led Moorehead to keep his own name off the dealership's logo. "I always say the boss is the customer, not me. I don't get caught up in having my name on the door," he explains. "Actually, most customers who come in think I'm just another salesman, and that's fine with me."
In a world where demanding buyers have been known to add millions of dollars' worth of custom details to their cars to reflect their personalities (fur-lined shoe-holders, built-in picnic baskets, crystal cufflink holders), Moorehead's low-key manner is a studied contrast – a contrast he believes helps him sell more cars. "I can talk about the features of the cars all day but, ultimately, people are buying good service."