Thomas Moorehead rolls into the world of ultra-luxury
Eric Easter | 2/19/2016, 6 a.m.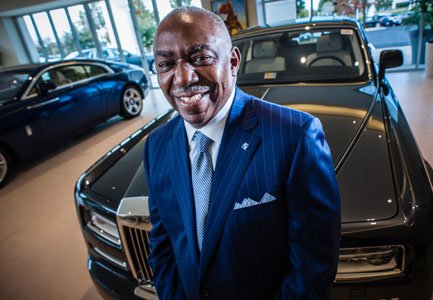 continued — At age 71, Moorehead still relies on the daily advice of mentors, who include Hall of Fame home-run great (now car dealer) Hank Aaron and former National Urban League president John Jacob. He calls them "instrumental" in shaping his business's success. "They marked their careers by quietly getting the job done, but also being the best at what they do."
While giving a tour of his office, Moorehead seems slightly embarrassed as he points to pictures of himself with presidents Obama and Clinton and an array of famous business leaders. That changes when he points out two items of which he's most proud: the Laurel Wreath Award, Kappa Alpha Psi Fraternity's highest honor for lifetime achievement— and then something much less distinct: a small cardboard sign that lists more than a dozen vendors who, he says, have contributed to his achievements — architects, decorators, contractors, cleaning-service owners and even the guy who printed the sign.
All are African-Americans, and fraternity brothers, people for whom he has paid forward the gift that Bradley gave him.
"This is really what it's all about, bringing other people up and giving something back."
For more information on Thomas Moorehead's philanthropic efforts go to www.themooreheadfoundation.org