TV One re-brands to 'Represent' best in black culture, entertainment
2/19/2016, 11 a.m.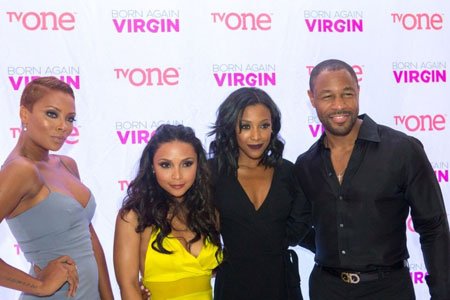 Viewers of the 47th annual NAACP Image Awards earlier this month may have noticed a bold and new look emanating from the network that carried the popular program.
They also may have noticed TV One's new tagline, "REPRESENT," which officials said served to reiterate the channel's commitment to offering the most engaging black entertainment experience.
It's the type of re-branding that executives at the 11-year-old network are hoping will stand out in a crowded television marketplace.
"TV One's re-brand is a clear indication we are evolving as our viewers evolve," said Lori Hall, the channel's senior vice president of marketing. "We are focused on redefining the brand in order to refresh, refocus and re-imagine how black content is presented to the world. With this goal, our hope and intent is to defy expectations with everything we do."
Launched in 2004, TV One now serves 57 million households with original programming like "Unsung," which examines the lives and careers of entertainers and the popular News One Now with Roland Martin.

In addition to a comprehensive creative overhaul of the network's on-air and off-air brand elements, such as the tagline, logo, promos and its website, TV One officials said they are dedicated to producing high-quality, well-rounded black content across a variety of genres.
Among the network's more popular shows are the reality series "Hollywood Divas," and "Rickey Smiley For Real."
The network also hosts the original comedy series, "Born Again Virgin," and "Here We Go Again," and the high-rated true crime series "Fatal Attraction," "For My Man," and "Justice By Any Means."
"We have a vision of the future that can only be achieved by defying expectations. Our new brand identity will underscore the importance of re-presenting and re-imagining ourselves to our viewers with a call to action that will catapult us into the future in a fresh new way," said the network's president Brad Siegel. "From representing black greatness with our live telecast of the 47th Annual NAACP Image Awards, to being on the forefront of news issues in the black community with News One Now, to new original reality and scripted series 'The Next: 15' and 'Here We Go Again,' our goal is to raise the bar on entertainment offerings reflecting the beautiful and strong diversity within black culture."
Hall added that TV One is committed to delivering on what consumers are demanding and a more balanced representation of stories and black images.
"In times of turmoil within black communities, it's important to have a network with a daily news platform to report on stories that matter to our audience," Hall said. "That's why, on TV One, we have News One Now with Roland Martin every weekday morning at 7 a.m. ET. We provide what's missing on other news networks – consistent reporting of news and stories affecting black communities and people every day. Our new brand tagline says it all. TV One is here to REPRESENT for our communities and our viewers."
For more information and program schedules, visit: www.tvone.tv