Schools reopen Jan. 4
Police will be on lookout over for drivers who pass school buses
1/4/2016, 7:45 a.m.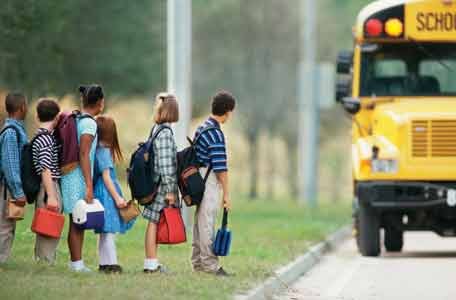 Schools re-open January 4, 2016 and Baltimore County police will be on the lookout over the next few weeks for drivers who pass school buses that are stopped to pick up or discharge students. Drivers put County children at risk for serious injury or death when passing a stopped school bus.
Maryland law states that vehicles must come to a complete stop on both sides of the street if there is no physical divider or barrier. Drivers may not pass the bus until all lights have ceased flashing.
Drivers passing school buses while the lights are flashing will be fined $570 and issued a 3-point penalty on their record.
Drivers who stop but then proceed while the lights are flashing will be fined $570 and a 2-point penalty will be charged.
If an accident occurs after the driver has stopped then proceeds to pass the bus, he or she will be fined $610 and will be charged 3-points.
Police will be patrolling throughout the County and will ticket drivers who do not obey. When a driver is pulled over, officers will check to see if the person has a valid operator's license. The vehicle's registration will be checked as well to see if there are any outstanding tickets. If a driver has a revoked or suspended license, he or she will be taken into custody.
Children don't always pay attention when crossing the street. Be a responsible driver and stop when a school bus is loading and unloading students.