Rules to make school lunches healthier are working, study finds
Students are still selecting school lunches after new rules to make the meals healthier
Carina Storrs | 1/5/2016, 9 a.m.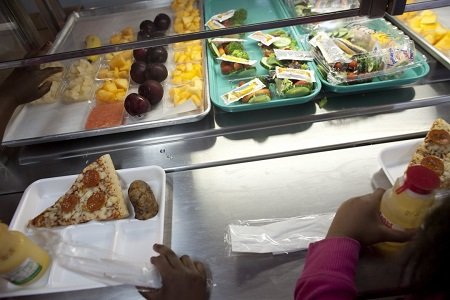 (CNN) — Ever since new meal standards went into effect in schools across the United States in 2012, experts have worried that the changes would result in fewer students eating school lunches. A new study of a Washington state school district suggests this has not been the case.
The meal standards, which are part of the United States Department of Agriculture Healthy, Hunger-Free Kids Act of 2010, made sweeping changes to the breakfasts and lunches served at U.S. schools. They put a cap on the number of calories per meal and required that meals contain at least one serving of fruits and vegetables.
Researchers examined the impact of these changes at three middle schools and three high schools in an urban, racially diverse Washington state school district that enrolls about 7,200 students. The researchers looked at the nutritional value of lunches the schools prepared, as well as what the students selected, in the 16 months before the changes and 15 months after.
The researchers found increases in the levels of six nutrients -- calcium, vitamin A, vitamin C, iron, fiber and protein -- in the meals after the changes were introduced. (Unhealthy components such as fat and sodium were not included in the analysis.) They also found that nearly as many students in the school district participated in the meal program before the Healthy, Hunger-Free Kids Act took effect as after, 47% compared with 46%.
"This is, in my mind, really verification that implementing these changes are first of all doable," said Donna B. Johnson, professor in the School of Public Health at University of Washington and lead author of the study, which was published Monday in the journal, JAMA Pediatrics.
The other important finding is that school meal participation did not change, especially among high school students who can leave campus during lunch and buy other food, said Johnson, who is also a registered dietitian and member of the Academy of Nutrition and Dietetics. "Our thinking was, if it's going to work for these older students who have more options, that's really a powerful statement."
Pushback on lunch changes
Johnson and her colleagues did not look at whether students actually ate the healthier lunches they chose, or if those servings of fruits and veggies ended up in the trash bin. However, they cited previous research that found that the amount of plate waste has not changed since meal changes were introduced. And if plate waste hasn't increased while portions of healthy foods have gone up, it probably means that kids are eating more of these foods, Johnson said.
The researchers found that the improvements in nutritional quality of school lunches were due mostly to the increases in portion size and variety of fruits and vegetables. These changes will hopefully inspire better eating habits among students.
"We tend to eat more if larger portions are put in front of us and if there's more variety," Johnson said. "We can use that to our advantage to nudge people along to make good choices."