Scholarship to honor life and legacy of Dr. Martin Luther King, Jr.
Andrea Blackstone | 1/15/2016, 6 a.m.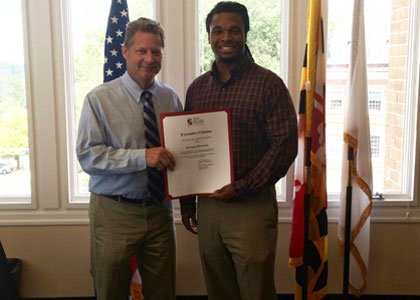 In celebration of the 35th anniversary of the Dr. Martin Luther King Jr. Breakfast, a scholarship will be awarded to an Anne Arundel County student in honor of Dr. Martin Luther King Jr.'s life and his legacy of service and social justice. The breakfast, which is reportedly, the largest celebration of King's birthday in Anne Arundel County will be held on January 18, 2016 at Anne Arundel Community College.
The Annapolis & Anne Arundel County Scholarship Trust (the Annapolis Trust) recently announced that the scholarship will be awarded to a 2016 high school graduate from Anne Arundel County. Applicants must exhibit a demonstrable commitment to social justice, community service, leadership or cultural awareness and have a minimum GPA of 3.0 on a 4.0 scale. The scholarship will be awarded for a four-year period, or up to the length of the course to a maximum of $800 per semester and the recipient will be mentored by the Annapolis Trust.
All applications must be received or postmarked by March 16, 2015. For more information about the scholarship and to download the scholarship application, visit http://www.annapolistrust.org.
The history of the Annapolis Trust dates back to 2000. Reggie Broddie and Crispin Etherington founded the nonprofit when Broddie was the chief professional officer of Boys & Girls Clubs of Annapolis & Anne Arundel County and Etherington was a board member. Broddie says that during his 30-year career as a social worker and Boys & Girls Club leader, he promoted education to youth as a way to gain control of their future and become successful. For this reason, the Annapolis Trust focuses on offering scholarships to first-generation and low-income high school seniors from Anne Arundel County seeking to enroll in a college.
"I realized that a lot of the youth we served at the Club who grew up in households where parents did not go to college often did not envision higher education in their future. By offering scholarships and mentoring to these young students, they begin to understand a degree or certificate is attainable and understand the importance of education," Broddie said. "Students should join our social media networks to hear when scholarships are available and check regularly throughout the year. The minimum scholarship award is $800 per semester and $6400 per year."
Mentorship is provided by adults who graduated from a college, trade school or who have extensive professional experience in a field. Opportunities to mentor students range from one-to-one mentoring to becoming a member of the Career Trust Network, where mentors are listed in the Annapolis Trust's database as an industry resource for Annapolis Trust students. The purpose is to connect students with resume building opportunities, such as internships and employment.
"We also hold several Mentoring Mixer events each year. People are invited to attend so they can meet our students and learn more about our mentoring program," Broddie said.
Terrance Brownlee, a 21-year-old Towson University senior who will graduate in May with a degree in political science is among the first group of Annapolis Trust scholarship awardees. The first-generation college student from Annapolis grew up in Bywater. He graduated from Old Mill High School and always knew that he wanted to go to college.