Scholarship to honor life and legacy of Dr. Martin Luther King, Jr.
Andrea Blackstone | 1/15/2016, 6 a.m.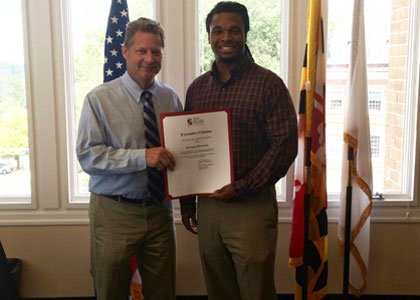 "There [are] a lot of programs that give scholarships, but there [are] not too many programs [that] stay on top of their scholarship recipients. They give you the money to go to college, but you never hear anything else from them, but [in] this specific program they stay on top of you, and they want to see where you're going," Brownlee said. "They want to see you succeed so that you can grow up and give back."
Brownlee explained that the $800 provided each semester from the scholarship was a huge help to purchase college books. Additionally, the mentorship provided by Broddie, his long-time mentor, helped to prepare him for life and the professional world. The college student also mentioned that networking opportunities and the requirement to maintain a minimum grade point average, were other positive aspects of being an Annapolis Trust scholar.
After earning his degree, Brownlee says that he is interested is enlisting in the United States Army and would like to become a JAG (Judge Advocate Officer), then ultimately to work as an FBI agent. He noted that he plans to return to the Annapolis Trust to mentor high school students and give back.
"It's a great feeling just to know that I'll be graduating in May," Brownlee said. "I'll never forget what the Trust has done for me."