Looking for Martin Luther King's 'Dream'
Kevin Powell | 1/18/2016, 10:45 a.m.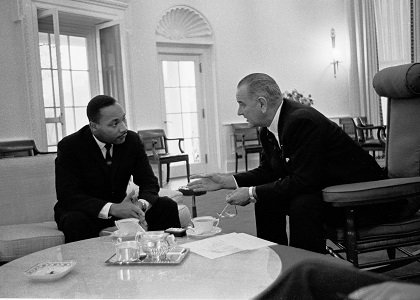 (CNN) — We've come so far from that fateful day on April 4, 1968, when a bullet ended the Rev. Martin Luther King Jr.'s life, yet we have so terribly far to go.
Violence, hatred and the spiritual sickness he talked about in our country are alive and well. That is why I think it does us some good as a nation of millions to not just say we love King on his birthday, to not just honor him with the national holiday, or even by doing service on that day.
We do ourselves a great disservice if we do not challenge ourselves, and others, to actually spend time, throughout our lives, to read and listen to his words. I have found in my travels and interactions as an activist and advocate for humans of all kinds that, when asked, many of us admit we have never even read the "I Have a Dream" speech in its entirety.
If we did, we would know that this speech so deeply connected to the notion of a dream of a different America begins with a history lesson, tying modern America to President Abraham Lincoln and the Emancipation Proclamation.
If we did, we would know that King declared, matter-of-factly, that America had not made good on its promise of full citizenship rights to black people. We would acknowledge, 50 years later, how sad and unfortunate it is that we are still having the same conversations about equality for people of color, women, the LGBTQ community, the poor, the disabled and immigrants.
But there is more in the "I Have a Dream" speech that is often ignored or forgotten. King used the term "police brutality" twice in this historic address, and here we are many seasons later wondering why police-community relations are so tainted.
This is why King asked and answered his own question: "'When will you be satisfied?' We can never be satisfied as long as the Negro is the victim of the unspeakable horrors of police brutality."
King encourages us not to drink from the cup of bitterness, to conduct our resistance to injustice on the high moral plane, a lesson some of us need to learn or relearn as we engage in civil disobedience in this new millennium. But those who say movements of today are disrupting their lives also fail to connect that the civil rights movement was completely about making the comfortable uncomfortable until real justice was served.
A dream deferred
The speech was delivered on August 28, 1963, and here we are in 2016, a presidential election year, with voting rights still under attack and candidates engaging in divisive language against the America they do not want to see or acknowledge, or against those whom they conveniently blame for America's troubles. Yet they, too, will pause on the King national holiday and say they loved the man and his ideals, when we know that is not the truth.
Nor do they love people like my mother, a woman born and bred in the backwoods of South Carolina, whose 20th birthday was the same day as King's "I Have a Dream" speech. My mother and her family were so poor she interrupted her education for the first of many times when she was only 8 years old, to pick cotton on land owned by local whites that had been forcibly taken from her grandfather upon his death at their hands. The family was so poor there was no telephone, no television, no radio, and no indoor plumbing.