Mervo grad is writing her own success story
Baltimore native Patricia Cuffie-Jones is the founder of Diverge Entertainment
Ursula V. Battle | 7/15/2016, 7 a.m.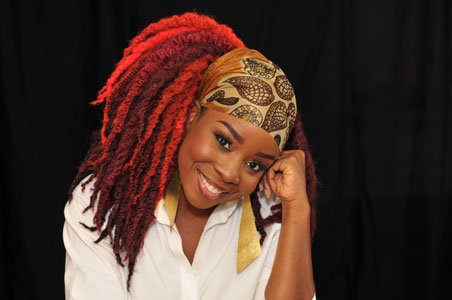 Writer, director, and producer Patricia Cuffie-Jones is writing her own success story. The Baltimore native resides in Los Angeles, California, and has penned several stage play productions, which include "You Can't Hurry Love," and has worked with the likes of playwright, producer, and filmmaker David E. Talbert. She is also the founder of Diverge Entertainment, a Los Angeles-based production company.
"I wrote directed, and produced my own shows here in LA, and invited people to the shows," recalled Cuffie-Jones. "I did a lot of Black Box Theatre shows, and started getting a reputation for putting up good shows."
She added, "The East Coast provided access to different people, and many ways to grow and learn. Director John Singleton, and actor Mario Van Peebles have attended my shows. That's how quickly and randomly things can happen out here. But, it took several years, and quite a few plays before that happened. It didn't happen overnight."
Cuffie-Jones' other works include "Love's Holiday," "and Love The One You're With." Her productions have included the likes of Margaret Avery (The Color Purple), Michael Beach (Soul Food), and Kiki Haynes (Tyler Perry's For Better or Worse).
She also completed the live filming of "You Can't Hurry Love" for network television at BET Soundstage in Washington, DC. The cast of the romantic dramedy included Victoria Rowell (Young and the Restless) and Richard Brooks (Being Mary Jane).
"Working with such a high caliber of talent has been such a pleasure," she said. "It's a joy to watch these people say your words and take your direction after watching them on television and in the movies. It's living a dream."
Cuffie-Jones recently completed a live recording of her latest project Addicted to You, at Spellman College in Atlanta, GA.
"I hope to showcase established and up-and-coming talent in layered and diverse roles, tell compelling stories through the eyes of African-American characters, and provide quality entertainment with themes that truthfully reflect our community, can uplift the spirit, challenge perspectives, promote love, and provoke change," she said.
Cuffie-Jones says she started Diverge Entertainment with the support of her husband Jeffery Jones.
"Diverge Entertainment provides me with the opportunity to green light myself," she said. "My husband and I have executive produced a series of plays that included up-and-coming talent as well as celebrities from some of today's hottest television series and films. It's been a lot of work, but has given me an outlet to tell my stories and connect with a network of industry professionals and entrepreneurs that support live theater."
She added, "You hear a lot of 'no,' 'no,' and 'no.' out here. I decided I was going to tell myself 'yes', 'yes' and 'yes' and sell myself. I have built many relationships working with many producers and directors. The biggest thing that helped me was sowing seeds with other writers and producers. It's truly been a blessing."
Cuffie-Jones is a graduate of Mergenthaler (Mervo) Vocational High School in Baltimore City.
"Mervo had a big influence on me," she said. "I was heavily involved in both the drama and choir departments. My first job on the road was singing and acting, and I developed that in high school one hundred percent."