Gavin Long: Who is Baton Rouge cop killer
Gavin Long was discharged from the Marines in 2010
Joshua Berlinger | 7/18/2016, noon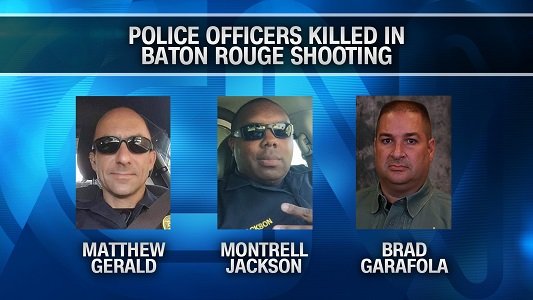 Gavin Long shot six cops, killing three of them, on his 29th birthday.
Investigators trying to figure out why a Marine sergeant would eventually murder police in broad daylight will likely look to the writings and online footprint of Cosmo Setepenra, the name Long legally changed his name to.
Setepenra wrote books about "esoteric health and nutritional practices" and "how to develop your higher-self."
On two separate websites he describes himself as a "Freedom Strategist, Mental Game Coach, Nutritionist, Author and Spiritual Advisor.
And in one video online he claims that victims of bullying need to resort to brute force: "100% have been successful through fighting back. Through bloodshed. Zero have been successful just over simply protesting. It has never worked, and it never will."
Here's what we know about Long's background and the views and opinions he espoused under the Setepenra pseudonym.
Long's time in Dallas
In a recent video posted on YouTube July 10, Long, who was African-American, speaks at the camera eloquently about recent protests and officer-involved shootings, often employing the motifs of blood and money and revolution.
He cites figures ranging from Nat Turner to Malcolm X and George Washington.
That video, he says, was recorded from Dallas, where five police officers were recently killed by a sniper targeting cops.
Long mentions the July 4 holiday as a celebration of an uprisings against oppressive forces, and without mentioning Micah Xavier Johnson -- the Dallas shooter -- by name, he questions why some violent actions are perceived as criminal while others are celebrated.
A video posted two days earlier is a bit more cryptic, but makes more sense in the aftermath of his shooting rampage.
"I just wanted to let y'all know, don't affiliate me with nothing," he says. He says he wanted people to know that his actions were his alone.
He then goes on to list organizations he may be affiliated with -- including the Nation of Islam (which he says he was a member of), Floyd Mayweather's The Money Team (he's wearing their hat) and terror groups like ISIS.
"I thought my own stuff; I made my own decisions; I'm the one who gotta listen to the judgment," Long added.
The Washitaw Nation
After he was killed, investigators found a card on Long's body suggesting he was a member of the Washitaw Nation, according to two law enforcement officials.
The Southern Poverty Law Center describes the Washitaw Nation "as a sovereign tribe descended from pre-Columbian blacks who settled in North America."
Long legally changed his name to Cosmo Ausar Setepenra in May 2015, claiming that he was "seeking to correct" his name, because he was part of the indigenous society, United Washitaw De Dugdahmoundvah Mu'er nation.
The group is just one of many fringe groups to which the gunman may have belonged.
Long followed several conspiracy groups devoted to government surveillance and monitoring. An email address linked to him showed that he was a member of a support group in an organization called Freedom from Covert Harassment and Surveillance.