Baltimore students picked to attend film seminar in Texas
Stacy M. Brown | 7/26/2016, 9 a.m.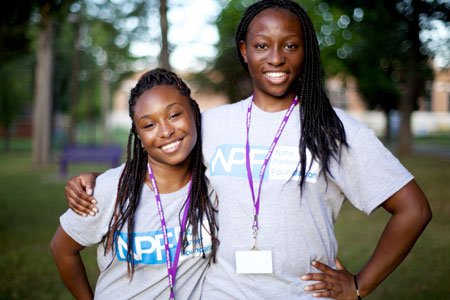 Dayla Williams believes strongly in the Black Lives Matter movement and embracing her heritage.
Kenya Cummings has faith that allows her to believe that good things will happen.
And, while Dayla, 17, attends the Baltimore Leadership School for Young Women and Kenya, 18, plans to attend Hampton University this fall, the two Baltimore students are now inextricably linked.
They were among the select group of young people chosen to participate in the first-annual Nate Parker Summer Film Institute held earlier this month.
The 10-day seminar took place on the historically black college campus of Wiley College in Marshall, Texas.
"My college counselor emailed me the application and told me to take a chance, basically. She knew that I was a huge supporter of the Black Lives Matter movement and embracing black culture, and believed that I could benefit from the experience," Dayla said. "I got the email in the middle of the night so I was just about to go to sleep when I found out. There was a lot of screaming and crying, and I didn't go to sleep at all," she said.
Kenya found out about the summer seminar on Twitter.
"I follow Nate Parker and came across a post about the application extension as I was scrolling through my feed," she said. "I was the only one home and as soon as I saw it, I started jumping up and down in excitement."
Hosted by acclaimed director and actor Nate Parker, the seminar was launched with the goal of promoting African-American representation in the film industry, officials said in a news release.
Following a competitive application process, 31 black rising high school seniors and college students from across the country were chosen to attend.
The mission of the institute is to transform the film industry by increasing representation of minority filmmakers through education, hands-on training and leadership skills.
The industry's lack of diversity is well documented in a report issued earlier this year by UCLA finding that minorities are underrepresented by nearly every metric examined, including in the number of film leads, directors, and writers.
"We need more people of color working in film today— in front of and behind the camera," Parker said in a release.
The students, chosen based on essays and short stories they submitted addressing the lack of diversity in film, are poets, photographers, writers, directors and actors. During the seminar, they attended courses in screenwriting, acting, and editing, as well as the history of minority filmmaking
"Of course meeting Nate Parker was something I was looking forward to because I have been a fan of his for a long time," Dayla said. "But, mostly having the chance to be in an environment where I didn't have to censor myself. I would be around like-minded, young black people who were fighting for the same things I'm fighting for."
Born in Norfolk, Virginia, Parker has appeared in such films as "Beyond the Lights," "The Great Debaters," and "Pride." He has also written, produced, and directed film projects like "The Secret Life of Bees," and "The Birth of a Nation."