"Roots" remake targets younger audience
Freddie Allen | 6/1/2016, 11 a.m.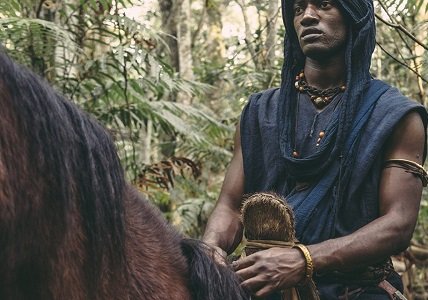 (NNPA) — Tony Award winner Anika Noni Rose admitted that she questioned why Mark Wolper, the son of the producer of the groundbreaking 1977 miniseries "Roots," would ever consider returning to that story.
The original miniseries, based on Alex Haley' Pulitzer Prize-winning 1976 novel "Roots: The Saga of an American Family," won nine Emmy awards and was watched by more than 50 percent of United States population. The miniseries inspired scores of families to trace their own genealogy, according to the Christian Science Monitor.
With the legacy and emotional burden of the original "Roots," Rose said that she needed to understand the mindsets of the producers, their plan and what they were trying to accomplish with the remake.
When Mark Wolper sat down to watch the 1977 miniseries with his own son, then 16 years-old, he discovered that the pace and style of the original didn't resonate with younger audiences. Wolper shared what his son told him with actors and producers. His son understood why the story was important, but similar to his father's music, it didn't speak to him.
After meeting with the producers, Rose came around.
"I think that this is a story that deserves to be told over and over again. As much as we hear about the Jewish Holocaust, we need to hear about our Holocaust. This particular American Holocaust. The second American Holocaust," said Rose. "I hope that this is the beginning of the telling of the story of, you know, another America. Of the America that built America. I hope that we continue to tell this story from different angles."
Rose continued: "We need to tell the story for new eyes, and a [younger generation] used to watching movies and television that move in a faster way and [speak with] a different language."
Malachi Kirby, the English-born actor who stars as Kunta Kinte, said that the reboot was necessary to make the film more accessible. Producers for the 2016 miniseries relied on a host of historians and research that simply wasn't available in the 1970s.
"[Roots"] was the best that it could be at it's time," said Kirby. "We've updated this now, hoping that it will the best that it can be at this time."
"If there is something that's keeping the younger generation from accessing that, then I believe we need to find a new way and I'm hoping that's what we did with this [miniseries]," said Kirby.
Like Rose, Kirby expressed anxiety about appearing in the reboot at first.
"I felt extremely unprepared for this," said Kirby. "I literally spent most of my time worrying about what I would do if I got the job instead of preparing for it. Then when I finally got it, I didn't have a clue how to tackle this."
Kirby turned to prayer to assist him in bringing his interpretation of Kunta Kinte to the screen.
"I came to an understanding that [Kunta Kinte's] strength and his power would have come from the knowledge of himself and his spirit and so I decided I wanted to take time to get a bit deeper into myself, so I could play him and also strengthen myself in spirit," said Kirby.