Acts4Youth mentorship program expands in Baltimore
Stacy M. Brown | 6/3/2016, 6 a.m.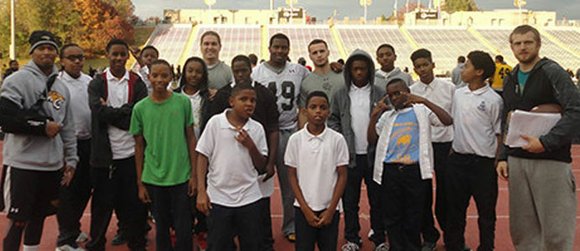 Acts4Youth has expanded its mentorship program that works with at-risk youth from Guilford and Walter P. Carter Elementary and Middle Schools. The program, which operates weekly after school and includes recreation, team building and other activities to help develop character and social skills, will now expand to Garrett Heights Elementary and Middle Schools.
"Currently, about 100 youth participate from the three elementary/middle schools we work with and in the high school program," said Lesley Simmons, the director of marketing and communications at Acts4Youth, the nonprofit that nurtures personal, social and spiritual development in at-risk Baltimore City youth.
The organization's vision is to see Baltimore City youth restored to wholeness and able to thrive within their communities.
"We anticipate about 150 [students] next school year and some of this increase will be because we are expanding the program at Garrett Heights to elementary school girls and middle school boys, and because we will be expanding the program for girls who attend Guilford and Walter P. Elementary and Middle Schools," Simmons said.
Founded in 2008 by Executive Director Kevin Good, the program began with eight boys from Guilford Elementary School.
The program is broken up into five basic premises including character building, where participants learn how to make good choices that lead to successful outcomes.
It also includes emotional maturity, where students develop the ability to understand and express emotions in a mature manner in order to positively connect with others. There is a faith and life and social skills component, the latter of which participants develop skills to prepare for future success in dealing with conflict. They also develop healthy relationships and work as productive team members.
Acts4Youth also offers mentoring programs that are designed to help participants become good students, teammates, citizens and employees.
Additionally, a "Shine into Womanhood" program for girls is scheduled to begin later this year. It will be designed to help girls develop what officials call their inner beauty by intentionally nurturing their emotional, social and spiritual development.
"Acts4Youth has been a wonderful support for our school and students that is invaluable and will last a lifetime," Omotayo Abiodun, Garret Heights' principal, said in a news release. "Students go through many changes in the middle school grades and it is nice to have a constant support in the midst of all of the variables that life brings our children's way."
The response to the program has been tremendous from others as well, Simmons said.
"Numerous administrators, teachers and parents have expressed appreciation for creating unique programs that address a clear need. Schools and families do not have the resources to provide additional support when it comes to developing the soft skills like character, emotional, social and spiritual development," she said.
It's also important to note that participating students enjoy the program.
"Remember, they are kids and unless it is fun they typically won't come. Most kids say how much they like going on fun trips, having dinner and hanging out with friends," Simmons said. "As the students get older you will start to hear things like how they appreciate getting help to deal with their emotions, especially anger, learning how to relate to others and even learning more about God. The high school students especially like when we help them obtain a part-time job and prepare for life after high school."