Officer: Van driver was responsible for Freddie Gray
Lawrence Crook and Laura Ly | 6/14/2016, noon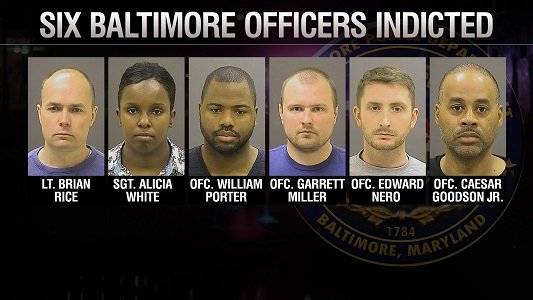 (CNN) — Baltimore police Officer William Porter said Monday that Caesar Goodson had custody of Freddie Gray while Gray was inside the police wagon, and therefore was responsible for him.
Goodson is the police wagon driver on trial in connection with the arrest and death of Gray.
"You previously testified that whoever has custody of the prisoner is responsible for them. Who had custody of him at this time?" prosecutor Michael Schatzow asked Porter after multiple objections by Goodson's defense attorneys.
Porter replied, "the wagon operator," and identified Goodson.
Gray died after suffering a spinal injury during an arrest in April 2015. The death of Gray ignited a wave of protests as debate surged nationwide over whether police use excessive force, particularly against African-Americans.
Prosecutors have said that Gray complained of having trouble breathing and asked for medical help as he was driven in a police van. When he arrived at a police substation, he was unconscious. A week later, Gray died at a hospital from a spinal injury.
Porter was the first of the six officers to face a trial in the April 2015 death of Gray. Prosecutors went to great lengths to compel Porter to testify at his fellow officers' trials with immunity, meaning his testimony cannot be used to incriminate him. His own trial ended in a mistrial in December and he is scheduled to be retried in September.
Gray was placed inside Goodson's police wagon after being detained and arrested by three other Baltimore police officers. Porter responded to a call for assistance from Goodson at a later stop, but did not ask why Goodson was requesting help, according to his testimony.
Goodson opened the back doors of the police wagon and Porter said he saw Gray lying face down on the van floor with his feet facing the back of the wagon. After Gray asked Porter to "help him up," Porter assisted Gray to the bench of the wagon and left him there sitting with his hands cuffed behind his back, Porter said.
Under cross-examination, Porter was asked by defense attorney Andy Graham to demonstrate how he assisted Gray onto the bench inside the van. Porter came off the stand, knelt and showed how he came up behind Gray, lifted him by putting his hands around him and raised Gray against his own body.
Porter said that there was "no possible way [he] could lift a 150-pound man and place him on the bench in such a confined space." Porter said Gray assisted by pushing off the ground with his legs toward the bench.
Porter testified that there was no blood or lacerations on Gray that were visible to him and that Gray was breathing normally at the time. Nothing suggested to him that Gray needed immediate medical attention, despite Gray answering "yes" when Porter asked him whether he needed to go to the hospital, Porter testified.
When asked whether Gray was in a seat belt, Porter testified that he did not see anyone belt him. When asked whether he had the opportunity to belt him, Porter paused and said, "I guess so."