Heaven over hospital: 5-year-old Julianna Snow dies on her terms
Her decision to forgo care at a hospital sparked conversations about care for terminally ill children
Elizabeth Cohen | 6/15/2016, noon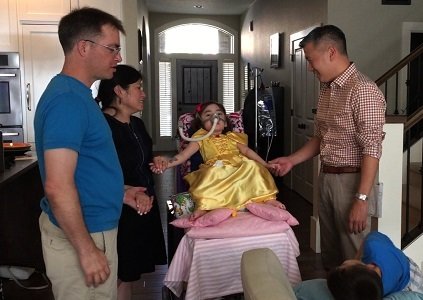 (CNN) — Julianna Snow, the 5-year-old girl who sparked an international conversation about wrenchingly difficult decisions for terminally ill children, died Tuesday.
"Our sweet Julianna went to heaven today," her mother, Dr. Michelle Moon, wrote on a blog devoted to her daughter. "I am stunned and heartbroken, but also thankful. I feel like the luckiest mom in the world, for God somehow entrusted me with this glorious child, and we got almost six years together."
Julianna was born with an incurable neuromuscular disease. CNN's story about her last year documented how Moon and her husband, Steve Snow, consulted with their daughter about whether she would want to go to the hospital if she were to have a potentially fatal complication.
The other choice was to forgo care and go to heaven. Julianna chose heaven, and her parents, in consultation with Julianna's doctors, abided by her decision.
That decision -- heaven over hospital -- started a conversation about what kind of care a child with a potentially deadly disease should receive, and whether the child herself should be consulted in the decision making.
"She was a remarkable little girl," said Art Caplan, director of the division of medical ethics at New York University School of Medicine.
"She taught me and others that even a child can become very knowledgeable about a challenging illness and can convey thoughtful and remarkable feelings about her illness and her ideas."
Julianna's story
When she was 2 years old, Julianna was diagnosed with Charcot-Marie-Tooth disease, a neurodegenerative illness.
By the time she was 4, she'd lost the use of her arms and legs. Her swallowing muscles were so weak, she had to be fed through a tube in her stomach. Her breathing muscles suffered too, and she was in and out of Doernbecher Children's Hospital in Portland, Oregon.
But her mind worked perfectly.
That's why her parents consulted Julianna, then only 4 years old, when doctors at Doernbecher told them they would have to make some very difficult medical decisions.
The doctors explained to Moon, a neurologist, and Snow, an Air Force fighter pilot, that they should consider what they wanted to do the next time an infection made it difficult for their daughter to breathe.
Did they want to bring her back to the hospital? The doctors said there was a reasonable chance Julianna would die there after being subjected to painful procedures. Even if she lived, they said, it would probably be for a short time, and she'd probably be sedated, unable to think and talk.
There was no right answer, the doctors told them.
Early last year, Moon asked Julianna what she wanted to do and wrote about the conversation on her blog.
Michelle: Julianna, if you get sick again, do you want to go to the hospital again or stay home?
Julianna: Not the hospital.
Michelle: Even if that means that you will go to heaven if you stay home?
Julianna: Yes.
Michelle: And you know that mommy and daddy won't come with you right away? You'll go by yourself first.