Former Wizards player Etan Thomas offers Father's Day inspiration
Andrea Blackstone | 6/17/2016, 6 a.m.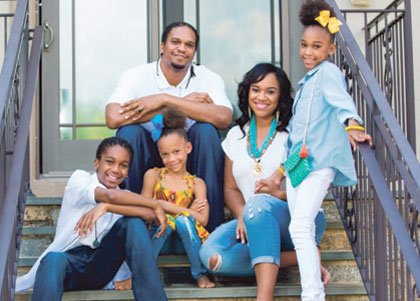 Etan Thomas is more than a retired professional basketball star who can reflect on spending 11 seasons in the NBA. Although the 6'10" former center spent the bulk of his career playing for the Washington Wizards, his mission to inspire an entire generation of youth and promote responsible fatherhood standout.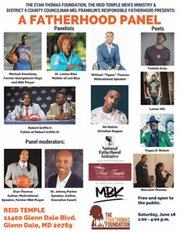 "The Activist Athlete" has been married to Nichole Thomas for 12 years and is the father of Malcolm, 10; Imani, 8; and Sierra, 5. He stays busy balancing family duties with speaking at schools and visiting correctional facilities to encourage juvenile inmates with empowering messages that align with his growing Fatherhood Movement.
Thomas currently travels around the country facilitating fatherhood panel discussions to uplift men and remind adolescent boys that they do matter. Seemingly, his passion for mentoring and civic engagement connects to his upbringing. Growing up in Tulsa, Oklahoma with his mother and brother, he was surrounded by books about the Civil Rights movement and politics.
Fast-forward to Etan's life in 2012 and his intellectual curiosity has remained intact, despite his popularity on the basketball court. His book, "Fatherhood: Rising To The Ultimate Challenge" was penned with Nick Chiles. The collection of inspirational stories shared by well-known men explores the importance of fathers and what they have learned from the journey.
"I had a lot of reasons as to why I wanted to release "Fatherhood: Rising To The Ultimate Challenge." The main goal was to encourage young people that they can be anything they want to be in life, no matter what their circumstances," Thomas said. "It always amazes me how much hearing that message from an athlete, or rapper, or actor who they recognize resonates with them. It's the reason why I started a fatherhood movement and connected with a wide a range of men to give personal accounts about responsibility, triumphs, struggles and what it takes for young people to succeed."
Notable men including Tony Dungy, Dr. Cornell West, Ice Cube, Roland Martin, Tito Puente Jr., Kevin Durant, Congressman Elijah Cummings, Kareem Abdul Jabbar, Taye Diggs, Andre Agassi, Malcolm Jamal Warner and many others are included in the book. Etan said he feels honored to partner with men who are willing to use their voice, celebrity and passion to have a positive impact.
He added that another reason for writing the book was to join with the efforts of other powerful men and women to inspire youth who are growing up without fathers in their homes. He noted that the contributors to the book are not fatherhood experts, and he does not even think there is any such thing, but we can all learn from each other while sharing experiences.
The author, philanthropist and poet was appointed to President Obama's "My Brother's Keeper" initiative and has been working with the organization for a few years. My Brother's Keeper ensures that all youth— included boys and men of color— have opportunities to improve their lives and rise above barriers to achieve success.
On Saturday, June 18, 2016, The Etan Thomas Foundation; The Reid Temple Men's Ministry; and Prince George's county council member, Mel Franklin's Responsible Fatherhood Initiative will present a fatherhood panel and workshop at Reid Temple located at 11400 Glenn Dale Blvd. in Glenn Dale, Maryland from 1 p.m. to 4 p.m. The free event is open to the public. My Brother's Keeper and The National Fatherhood