Morgan State reopens civil rights museum
Stacy M. Brown | 6/17/2016, 6 a.m.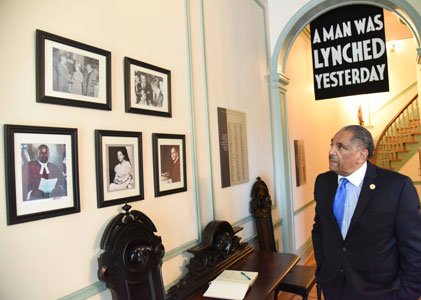 To some, it was a long time coming but, to others, the reopening of the Lillie Carroll Jackson Civil Rights Museum on Saturday, June 11, 2016 happened just on time— at the right time.
"The ribbon-cutting ceremony marking the official reopening of the Lillie Carroll Jackson Civil Rights Museum was an excellent and well put together affair with a great turnout. There was overwhelming excitement surrounding the event, as many were eager to see and experience the upgrades that had been made to this historic location," said Larry Jones, a spokesperson at Morgan State University, which owns and operates the Bolton Hill-located museum named after Jackson, the longtime head of Baltimore's NAACP.
"We were very pleased with the event and the community support. It showed a great interest in this piece of Baltimore and Maryland history," Jones said.
The museum, which had undergone a substantial $3 million renovation which university officials said was carefully conducted, highlights the life and legacy of Jackson, a noted civil rights activist.
When visitors enter, they are greeted by a large sign that reads "A Man Was Lynched Yesterday," in reference to the display at New York's NAACP in the 1930s. Also among the eye-catching exhibits is an encased newspaper article that shows a photo of George Armwood, the last African-American man killed by a lynch mob in Maryland in 1933.
"Dr. Jackson's participation in Baltimore's Civil Rights Movement was vital to initiating significant change and we're proud to share that history with the world, introducing her contributions to a new generation of museum goers," Morgan State's Dr. David Wilson said in a news release. "With the reopening of this important piece of civil rights history, we are able to further expand Morgan's educational offerings on the movement and create a place that offers a unique learning experience.
The newly modernized museum, which is located a short distance from the Morgan campus in Baltimore's Bolton Hill Community, services the university's museum studies program and houses two period rooms along with six galleries of exhibits throughout the converted four-story row home.
Included among the exhibits are drawings, paintings, letters, photographs and historic documents related to the Civil Rights Movement. The museum's new and otherwise enhanced features include a separate garage structure converted into a Resource Center for scholars; digital friendly systems and technological upgrades; an elevator; and rehabilitated structural and architectural components.
"Of the hundreds who were on hand to witness and celebrate the occasion, many seemed to have a personal connection to the history portrayed in the museum or the family that used to occupy the space," Jones said. "Those in attendance included members of Baltimore's well-known Mitchell family (Sen. [Ret.] Michael Mitchell, Keiffer Mitchell & others), civil rights activist Dr. Helena Hicks, local and elected officials, Morgan State faculty and staff, and residents of the community."
Jackson served for more than three decades as president of the Baltimore Chapter of the NAACP. Her home was a regular meeting place for organizing civil rights campaigns.
Prior to her death in 1975, Jackson requested that her home be used as a living museum to honor those individuals that fought bigotry in Baltimore, officials noted in a news release.
The state legislature transferred the property to Morgan State in June 1996 and the museum, one of two that is owned and operated by the school, remained closed due to the need for extensive repairs and renovations.
"The response to the museum's reopening was very positive. Attendees were impressed with the numerous upgrades and new amenities that the museum offered," Jones said.
"As family members toured the facility each encounter with an object, picture or setting seemed to generate a fond memory that they wanted to share. And then there was the look on the faces of several people, young and old, who were seeing the museum for the first time."