Free Kidney Health Assessment at Men and Families Center Connectfest
6/20/2016, 11 a.m.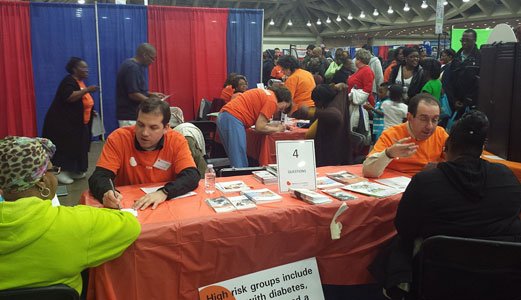 The National Kidney Foundation of Maryland (NKF-MD) will bring its Kidney Health Risk Assessment (KHRA) to the Men and Families Center ConnectFest taking place Thursday, June 23, 2016 from 1 p.m. to 5 p.m. at 2222 Jefferson Street in Baltimore.
As part of NKF-MD's mission of early detection and early intervention, this free assessment helps identify adults at risk for chronic kidney disease and increases awareness of kidney disease risk factors in the community.
The KHRA uses a simple Body Mass Index (BMI) calculation, blood pressure measurement and a short questionnaire to make participants aware of their risk factors for chronic kidney disease. Participants will receive brief consultations with physicians and dietitians to learn about kidney disease, as well as general nutrition and wellness guidelines.
Individuals not at risk will be given educational materials about maintaining good health, while those at risk will be directed to further screenings and advised to talk to medical professionals. Everyone is encouraged to follow up with their physician and to maintain regular primary care visits.
Overall, kidney disease affects 26 million people— that's one in nine Marylanders and one in eight in Baltimore. One in three American adults— 73 million people— is at risk for kidney disease, and the risk increases to one in two over the course of a lifetime.
In Baltimore, kidney disease is a hidden health crisis because African Americans make up more than 60 percent of the city's population, and they are at increased risk for developing kidney disease. Most people affected do not realize they have it until the condition has progressed. In fact, 25 percent of the 1,229 people screened in fiscal year 2015 by NKF-MD demonstrated significant results.
For details about this KHRA event or NKF-MD's other KHRA events and kidney screenings, call 410-494-8545 or visit: www.kidneymd.org.