Refugee life, as seen by children fleeing war
Atika Shubert, Bharati Naik and Bryony Jones | 6/20/2016, 2 p.m.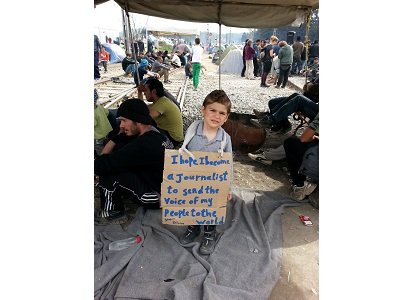 DIAVATA REFUGEE CAMP, Greece (CNN) — Imagine watching as violence and bloodshed took over your country, leaving you with little option but to flee.
Imagine risking your life, traveling hundreds of miles, and throwing yourself on the mercy of strangers in a foreign land.
Now imagine doing all that as a child, with no parents, no family to support you on the perilous journey.
Dozens of teenagers in Greece's Diavata refugee camp don't need to use their imagination -- this is the life they've been living for weeks, months, even years.
Ashraf Khalil Alhatem, 17, and his 15-year-old brother Hatem left their home in Deir Ezzor, Syria, at the urging of their parents, who stayed behind with the rest of the family.
"They were worried about the military bombing everything, and we weren't able to continue our studies or live with any kind of safety," he explains.
Ashraf says it took the pair two attempts just to cross into Turkey: "The Turkish army blocked us so we returned, but we tried again and thank God we got through."
Perilous journey by sea
After more than three weeks in Turkey, the brothers got onto a boat heading for Greece --- but their journey was far from straightforward.
"In the sea we stayed in the Straits of Turkey for three days, without food or any water at all," says Ashraf.
"My brother has a problem with his heart so we were always worried about him. I didn't know what to do --- it was a very difficult situation."
And things didn't get any easier when they finally landed on Greek shores.
"I was jailed twice," says Ashraf. "And now we are living in tents. Really awful tents. My mood is very tired, and the situation is very difficult. But hopefully things will get better, God willing."
Ashraf and Hatem are two of the 30 or so unaccompanied minors -- all of them boys -- living in Diavata; girls are housed in a government-run shelter.
Sleeping on benches
In 2015, the European Union registered more than 88,000 child and teenage refugees traveling alone.
Obada Khdier, 17, from Damascus, dreamed of studying to become a doctor, until the Syrian civil war interrupted his studies. He says he fled his home because "there was no way to live normally or in safety" in Syria.
After arriving in Turkey, he went hungry and slept on park benches for a week before a passerby offered him a place to stay and helped him find a job.
"In Turkey the life I had only allowed me to live and eat and drink, it didn't provide me with any sort of a future," he says, and after eight months he decided to move on "so I could have a future and carry on with my studies."
Like many others, the Khalil Alhatem brothers and Obada crossed into Greece by sea. Last year at least 856,000 people risked their lives to cross the Aegean on rickety boats and inflatable dinghies.