Morris Day headlines Baltimore concert to honor Prince
Stacy M. Brown | 6/24/2016, 6 a.m.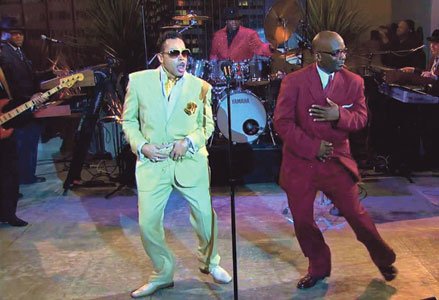 Shortly after receiving the devastating news of his mentor Prince's death, Morris Day stood speechless.
"Right now," he said, stunned by the news that his musical brother and industry icon had died at the age of 57 on April 21, 2016. "There are no words that can express the feelings we all have for our dear brother Prince."
Approximately one year ago, Prince arrived in Baltimore to perform a concert for peace in the aftermath of the death of Freddie Gray.
Now, on July 1, 2016, Day and his famed group, The Time, will headline a tribute to their former boss and "Purple Rain" hit maker at Baltimore's Patapsco Arena.
Known for hits like "Jungle Love," "The Bird," and "777-9311," The Time is fronted by the ever flamboyant Day with sidekick Jerome Benton, Jesse Johnson and famed Janet Jackson producers Jimmy Jam and Terry Lewis.
Dubbed "The Purple Rain Tribute Concert," other acts including the R&B band Secret Society also are scheduled to perform.
The show comes weeks after a heavily criticized tribute to Prince at the Billboard Music Awards took place, starring Madonna. Inexplicably, the tribute failed to include Prince protégés like The Time, Sheila E., and Apollonia Kotero.
Day, Benton and the other members of The Time all grew up with Prince in Minneapolis.
They also co-starred in Prince's semi-autobiographical hit 1984 movie, "Purple Rain," and later, they would appear again as co-stars in the 1990 "Purple Rain" sequel, "Graffiti Bridge."
Benton, who toured heavily with Prince in the 1980s, co-starred with the legend on the 1986 feature film, "Under the Cherry Moon," whose music included such hits like "Kiss," "Girls & Boys," and "Sometimes it Snows in April."
As the New York Times reported after his death, Prince was a man bursting with music – a wildly prolific songwriter, a virtuoso on guitars, keyboards and drums and a master architect of funk, rock, R&B and pop, even as his music defied genres.
In a career that lasted from the late 1970s until his solo "Piano & a Microphone" tour this year, he was acclaimed as a sex symbol, a musical prodigy and an artist who shaped his career his way, often battling with accepted music-business practices.
"When I first started out in the music industry, I was most concerned with freedom. Freedom to produce, freedom to play all the instruments on my records, freedom to say anything I wanted to," he said when he was inducted into the Rock and Roll Hall of Fame in 2004.
In a tribute to George Harrison that night, Prince went on to play a guitar solo in "While My Guitar Gently Weeps" that left the room floored.
A seven-time Grammy winner, Prince had Top 10 hits like "Little Red Corvette," "When Doves Cry," "Let's Go Crazy," "Kiss" and "The Most Beautiful Girl in the World"; albums like "Dirty Mind," "1999" and "Sign O' the Times" were full-length statements.
His songs also became hits for others, among them "Nothing Compares 2 U" for Sinead O'Connor, "Manic Monday" for the Bangles and "I Feel for You" for Chaka Khan.
With the film and album "Purple Rain," he told a fictionalized version of his own story: biracial (although Prince's parents were both African-American), gifted, spectacularly- ambitious. Its music won him an Academy Award, and the album sold more than 13 million copies in the United States alone.
"This concert with The Time is going to be so much fun," said Sandy Hyatt, the director of sales at Patapsco Arena. "I have never had this many phone calls this far out from an event. We are so excited to host The Time here," she said.
The concert is scheduled to begin at 9 p.m. Tickets start at $40. For more information, visit http://menwomenofrespect.com/ourevents/morris-day-the-time/.