Are female emojis sexist and harmful to girls?
Female emojis are limiting and stereotypical, argues a new #LikeAGirl video
3/3/2016, 9 a.m.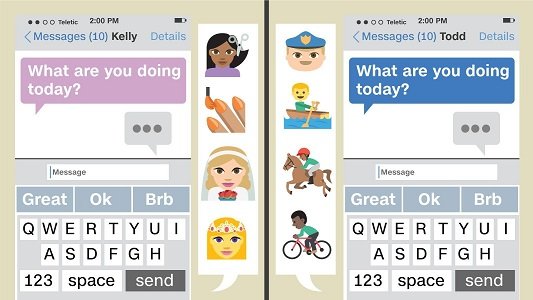 My girls will think it's more than a little bit ironic that I am writing a story about emojis, those characters you find throughout texts and social media, since they believe I'm the last person on the planet to download them on my phone. (I only did that a few months ago!)
It is estimated that 6 billion emojis are sent every day, according to Swyft Media, with young girls believed to be responsible for more than a billion of the daily output. They are so popular that Oxford Dictionaries declared emoji the official word of 2015. Clearly, I am very slow to capitalize on this trend!
So, as an emoji novice, if there is such an expression, I had no idea what female and male characters were available to choose from until I watched the newest #LikeAGirl video by Always, the creator of sanitary pads. In this latest video, which follows videos in 2014 and 2015 that went viral showcasing how a girls' confidence plummets during puberty, girls are asked about the emojis that are available to represent them.
"They're all mainly pink. That's pretty much it," said one girl, as you see a series of girl emojis on the screen, including one of a girl getting a haircut and another of a girl putting her hand up, both wearing pink.
Said another girl, "There (are) no girls in the professional emojis unless you count being a bride a profession." (There are also emojis of girls as princesses and what appear to be Playboy bunnies.)
Girls of various ages and backgrounds note how there are boy emojis for rock climbing, playing basketball and biking, but none for girls doing the same activities. "Except for the surfer. That one's a girl. Nope, it's just a guy with long hair," says another girl in the video before she laughs.
'As soon as you see it, you can't unsee it'
Rachel Simmons, co-founder of the national nonprofit Girls Leadership, which focuses on girls in K-12, and a #LikeAGirl spokesperson, said as obsessed as she is about social media, she had never thought about the representation of girls in emojis until Always brought it up.
"It's sort of something that is hiding in plain sight," said Simmons, author of the New York Times bestseller "Odd Girl Out: The Hidden Culture of Aggression in Girls." "And then as soon as you see it, you can't unsee it."
Fitfy-four percent of girls 16 to 24 years old believe that female emojis are stereotypical, and half said they represent a limited range of female interests, according to a national survey of more than 1,000 females sponsored by Always. Seventy-five percent of girls 16 to 24 would like to see more progressive depictions of female emojis such as female athletes and female police officers, the survey found.
In the video, girls said they'd love to see an emoji of a girl lifting weights, playing soccer, wrestling, going to the gym and teaching people how to play drums, even an emoji for a "super bad ass girl," says one girl.