Zoe Saldana, Nina Simone and the painful history of blackface
Lisa Respers France | 3/7/2016, 9 a.m.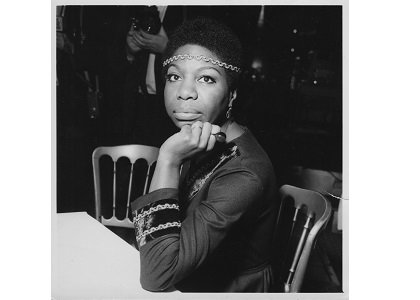 (CNN) — In many ways the casting of Zoe Saldana as the singer and activist Nina Simone in an upcoming biopic stings more for people of color than the recent announcement that white actor Joseph Fiennes was selected to play Michael Jackson.
Yes, with her Afro-Latino heritage (Saldana is Dominican) the actress is a woman of color just like Simone. But the darkening of her skin and the use of prosthetics in an attempt to make her look more like Simone in the forthcoming film "Nina" is a painful reminder of the abhorrent history of blackface in Hollywood.
The use of blackface began in the mid-19th century when performers would darken their skin and exaggerate their lips as part of traveling minstrel shows. Racist audiences had no desire to see African-Americans perform onstage but were entertained by actors made to look black who would sing and dance like "the darkies."
The practice even spread to black actors who could hide their actual race from audiences with the use of the makeup. Eventually black actors took on stereotypical roles using exaggerated black dialect that was in many ways "vocal blackface." One example was the now infamous "Amos 'n' Andy Show," which began as a radio show voiced by white actors in the 1920s and transitioned to black actors taking on the roles when the show came to television in 1951.
Fast forward to 2016.
In America a debate rages about the lack of opportunities for actors of color, and a protest movement has taken hold under the hashtag #OscarsSoWhite. An aspiring presidential candidate is at the center of a controversy involving the Ku Klux Klan, and the #BlackLivesMatter movement continues to shine a spotlight on racial injustices.
In the grand scheme of things, backlash over an actress of color being "browned up" for a role may seem low on the list of outrage priorities at the moment. Right now someone is probably reading this and asking, "Why is this news?"
Here is why: Race and Hollywood have always had a contentious relationship, but the situation takes on a different dimension when we're discussing Nina Simone. The decision to darken Saldana begs the question of who in the world thought this was a good idea and whether or not the filmmakers actually know the history of the woman they are portraying.
Simone, a volatile and hugely talented singer, songwriter and arranger who died in 2003, has long been beloved by jazz lovers. Not only have her hits such as "My Baby Just Cares for Me" and "I Want a Little Sugar in My Bowl" enjoyed a resurgence thanks to their use in commercials, but the recent Academy Award-nominated Netflix documentary about her life -- "What Happened, Miss Simone?" -- introduced the chanteuse to a new audience.
But Simone was more than just a performer, she was also an activist.
Her song "Mississippi Goddam" was inspired by the murder of four little black girls in the 1963 bombing of Birmingham, Alabama's 16th Street Baptist Church and the death of civil rights activist Medgar Evers.