Eastern Shore Folklife Festival at the Reginald F. Lewis Museum
3/18/2016, 6 a.m.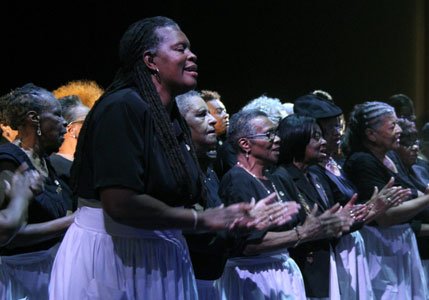 The public is invited to join the Reginald F. Lewis Museum for a day full of activities and presentations celebrating the culture of Maryland's Eastern Shore region on Saturday, March 19, 2016 from 1 p.m. to 5 p.m.
Activities include presentations from acclaimed chef and food writer, John Shields, owner of Gertrude's at the Baltimore Museum of Art, for a talk on Chesapeake regional cooking along with a food tasting; a performance by the Singing and Praying Band of Maryland and Delaware, named a 2014 National Heritage Fellow by the National Endowment of the Arts; a film screening of Voices of Indiantown followed by a discussion with the descendants of the families of sharecroppers growing up in rural Dorchester County; and a reading of Moses: When Harriet Tubman Led Her People to Freedom by children's author Carole Boston Weatherford. The festival is in conjunction with the exhibition Ruth Starr Rose: Revelations of African American Life in Maryland and the World.
Eastern Shore Folklife Festival Event Schedule:
1:00 p.m. — Voices of Indiantown Film Screening and Discussion with
Eastern Shore descendants of sharecroppers
1:30 p.m. — Storytelling with children's author Carol Boston Weatherford
of Moses: When Harriet Tubman Led Her People to Freedom
2:00 p.m. — Food Conversations and tasting with Chef and Food Writer
John Shields
3:30 p.m. — Musical Presentation by the Singing and Praying Band of
Maryland and Delaware