Obama arrives in Cuba; hopes visit will usher in change
Kevin Liptak | 3/21/2016, 9 a.m.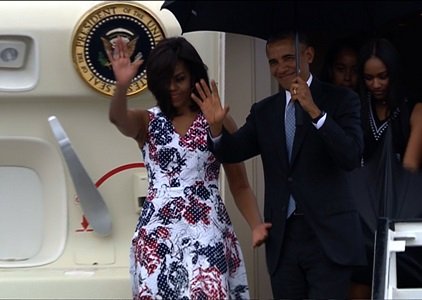 HAVANA (CNN) — President Barack Obama touched down in Cuba on Sunday, definitively ending a half-century of estrangement in a dramatic personal demonstration of his core foreign policy principle of engaging America's enemies.
It's a shift that the change-minded president hopes will nudge the Communist government here to grant more freedoms to its people and open new economic channels for American businesses. The President and his allies also hope a successful détente will offer something bigger: a lasting example of diplomacy's power in dealing with longtime foes.
Just before Obama stepped from Air Force One -- carrying an umbrella as a persistent rain fell on the tarmac -- he sent a message to Cubans on a platform that until recently would have been unheard of in the repressive regime.
"¿Que bolá Cuba?" he wrote on Twitter, using an informal Cuban greeting. "Just touched down here, looking forward to meeting and hearing directly from the Cuban people."
On Sunday, his interactions with everyday Cubans were carefully calibrated. He toured the Cathedral of the Virgin Mary of the Immaculate Conception, greeting Cardinal Jaime Ortega, a key proponent of improving ties between the U.S. and Cuba. Crowds had gathered in the faded colonial streets of Old Havana to glimpse Obama and his family as they passed through on foot.
Later in the evening, Obama dined at a "paladar" -- one of hundreds of privately-run restaurants that only recently became permissible in the state-run economy.
Those types of businesses -- along with new investments from American firms -- give U.S. officials hope that Cuba is on a path to finally opening its economy after decades of isolation.
But he final verdict on Obama's Cuba policy has yet to be rendered. Those economic changes have been slow, and human rights are still blatantly ignored in parts of the island.
That was illustrated Sunday, when scores of anti-Castro dissidents from the group Ladies in White were arrested and detained after their weekly protest in Havana. CNN witnessed dozens of protesters being driven from the site in buses.
Jose Daniel Ferrer, a Cuban dissident who was imprisoned for eight years beginning in 2008, said Obama could act like President Ronald Reagan, demanding immediate improvements in human rights just as Reagan demanded the Soviet Union "tear down this wall."
But Ferrer, speaking in an interview with CNN in his home Sunday, conceded that even incremental change is beneficial to the island's politically oppressed citizenry.
"Obama's visit is good for the people and good for the cause," he said. Ferrer is among the dissidents meeting Obama on Tuesday.
Challenges aside, the sight of Air Force One landing at Havana's Jose Marti Airport in the early evening on Sunday nonetheless represented a diplomatic metamorphosis that few could have imagined even five years ago.
"My view is that this is the beginning, not the end, of what is going to be a journey that takes some time," Obama told CNN in an interview ahead of the trip.