Car Review: 2016 Cadillac ATS-V
Frank S. Washington | 3/23/2016, 10 a.m.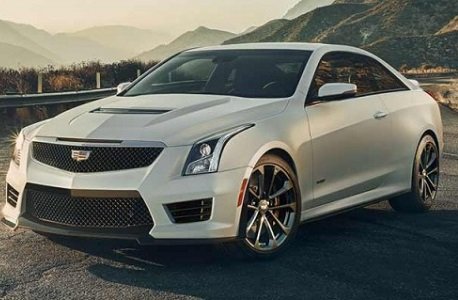 (NNPA) — Apprehension came with the 2016 Cadillac ATS-V. It was winter, at least technically, and in these parts, that means snow. We had the coupe version of the car. But four doors or two doors the Cadillac ATS-V is rear-wheel-drive and that can be hazardous in winter months, especially when you've got power under the hood.
The ATS-V had a 3.6-liter twin turbocharged V6 that made 464 horsepower and 445 pound-feet of torque. It was mated to a six-speed manual transmission with active rev match. An eight-speed automatic is available. In manual mode, Cadillac said the car had a zero to 60 mph time of 3.9 seconds and a top speed of 189 mph, neither of which were approached during the test drive.
Although the statistics make it sound like a brute, the car was extremely easy to drive. It had a Macpherson strut front suspension with lower ball joints and a direct stabilizer bar. In the rear, was an independent five-link suspension with Magnetic Ride Control.
It finessed the streets without a lot of fanfare because the third generation magnetic ride was set on touring. The ATS-V's ride got a lot stiffer in sport mode and it was outright harsh in track mode while on city streets.
Steering was electric with power and variable assist. There wasn't a lot of feedback but the response to driver input was almost immediate. The brakes were four-wheel discs with Brembo aluminum six piston red calipers in the front and four red calipers in rear. On dry pavement stopping felt instant.
The 18-inch wheels had been shod with Bridgestone winter tires, which were due for a workout as an abundance of snow fell toward the end of the week-long test drive. The car handled the slush filled streets well as long as we stayed off the gas. One surprise was that the defrosters, front and back, worked quicker than any that came to mind. In the cold, that makes a difference when scraping ice off the front and back windows.
The fenders were wider to accommodate the tires. A light-weight carbon hood with an air extractor was just the beginning of features the Cadillac ATS-V had to enhance performance. Front and rear fascia with wider openings in the front along with an enlarged grille for more air was part of the package. The front splitter increased down-force for better handling.
The test car featured both a carbon fiber and track package. The splitter was carbon fiber, as was the air extractor, the rear diffuser and the hood vent. The rocker was made of a composite as was the body colored rear spoiler. The Track Package included a Performance Data Recorder and a low-mass battery. The standard floor mats and the tire inflator kit were dumped to save weight.
Inside, the driver was enveloped by Recaro performance seats. The seats were heated in front, 16-way power adjustable and trimmed in leather with microfiber inserts and seatbacks. The car's interior trim was carbon fiber.
There were expected creature comforts. Bluetooth, satellite radio, voice controls, a navigation system, a backup camera and parking assist fore and aft were included. But there were a couple of areas were the Cadillac ATS-V went beyond what was expected. In addition to its auxiliary and USB jacks, it had slot for an SD memory card. It had a couple of 12-volt sockets but also one plug for 110 volts.
And the ATS-V's Apple CarPlay feature enabled iPhone 5s and up to connect their applications like navigation, hands free texting, entertainment and news directly through the CUE display screen. The Cadillac ATS-V can also generate its own Wi Fi hotspot that is good for 50 feet around the car.
Engineers did a lot of work on the ATS-V, which is the first V series car to be powered by a V6. For the enthusiasts, Cadillac said, "The twin, low-inertia turbochargers' featherweight titanium-aluminide turbines are used with vacuum-actuated waste gate control for precise, responsive torque production. In fact, the titanium-aluminide turbines reduce rotating inertial load by 51 percent, compared to conventional Inconel turbine wheels. That means less exhaust energy – which spins the turbines – is wasted in stored inertial loads."
What that means is relatively small turbochargers and their lightweight turbines foster immediate spooling, which eliminated turbo lag. We felt none, not once, during the week-long test drive.
The test vehicle was base priced at $62,665. Add options and a $995 freight charge and the sticker came to $74,635. That's steep but you'll pay a lot more for a comparable coupe from the competition.