Volunteers continue to 'make change happen' on annual Comcast Cares Day
Andrea Blackstone | 5/6/2016, 8 a.m.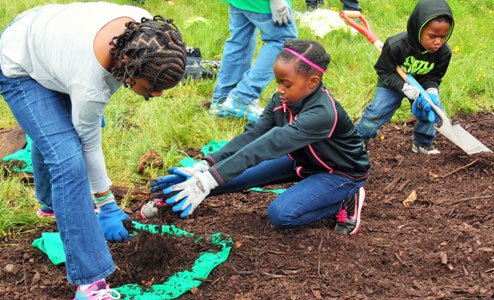 Over 100,000 Comcast NBCUniversal employees, their families, friends and community partners came together to beautify and improve project sites globally, during the end of National Volunteer Month.
On April 30, 2016, approximately 6,000 local volunteers pitched in at more than 50 project sites located in Maryland, the District of Columbia, Virginia, West Virginia and Delaware to improve their communities as part of the 15th annual Comcast Cares Day. The nation's largest single-day corporate volunteer effort is one of the company's traditions, which has grown from a relatively small day of service in 2001.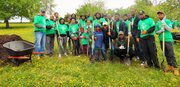 Local 2016 Comcast Cares Day projects celebrating Comcast's year-round commitment to service included spring clean-up and beautification at the Maryland Center for Veterans Education & Training (MCVET) and building compassion boxes that were filled with items for active duty military women; assembling food boxes at the Maryland Food Bank in Halethorpe; joining children and staff from Big Brothers Big Sisters for bowling and pizza in Baltimore County; helping to landscape and pick up trash at the Maryland Hall for the Creative Arts in Annapolis; and completing a number of clean-up initiatives at Carroll Park in Baltimore.
Comcast employees and other community groups remained busy mulching orchard trees, landscaping, painting garbage cans, cleaning up trash and debris, and folding brochures to help prepare for the park's busy season.
While at Carroll Park, Mary McLaughlin, regional senior vice president for Comcast Beltway Region explained that Comcast Cares Day started about 15 years ago by Comcast's founder— the late Ralph Roberts. This year marked McLaughlin's ninth year participating in Comcast Cares Day.
"Comcast Cares Day is our signature day of volunteering and we work with our community partners, and this case, the city of Baltimore Parks & Recs to really help identify places that can use some volunteers to get work done," McLaughlin said, noting that over 500 people showed up to provide assistance at Carroll Park. "I think it definitely brings the community together. It brings our micro community of 'Comcasters' together, but it also brings the larger community together. We're all looking for a way to give back to our communities, so this makes it easy."
McLaughlin also explained that community partners and Comcast's employees who are affiliated with groups often recommend potential project sites where volunteers are greatly needed. Numerous partners have participated in Comcast Cares Day in previous years.
Fran Spero, division chief for Baltimore City's Park Programming, Events and Volunteer Coordination, expressed appreciation for the collective work that was completed by volunteers on the special service day.
"Comcast has been a great partner with us. I guess the last three or four years, their Comcast Cares event has been on park property, so we're very excited that they keep coming back and helping the park system," Spero said. "The timing of this is really great because April is kind of like the opening. People are starting to come out. The weather is warm and so we're able to spruce one of our big parks up to get ready for this."