Film Review: Nina
Dwight Brown | 5/9/2016, 5 p.m.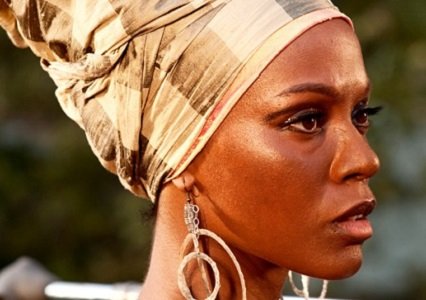 (NNPA) — If you haven't picked up a copy of "I Put a Spell on You: The Autobiography of Nina Simone," now is a good time to read it and let Simone reflect on her life, with her own enlightening words. If you haven't seen the Oscar-nominated, bio-documentary film What Happened, Miss Simone?, it's on Netflix and it is very moving. Enlightening and moving are two descriptive words that will never be associated with the misconceived and misguided endeavor that is Nina.
This bio/film gained controversy early on for its unlikely casting of Zoe Saldana (Avatar). Photos of her darkened skin and prosthetic nose hit the Internet and caused a firestorm of debate. Why couldn't the producers find a dark-skinned actress to play Nina? What difference does it make if an actress needs heavy makeup and special effects to play a role?
As the movie opens, Nina Simone (Saldana) is pissed. She's broke and is not receiving royalties for her music. She and her manager Henry Edwards (Ron Guttman) are in her record company office when she confronts an executive, who in a very blasé tone tells her she signed away her rights a long time ago. Simone reaches into her purse, grabs a gun and points the muzzle at the quivering suit.
Next thing she knows she is in a psychiatric hospital, tied down because of her outbursts. Clifton Henderson (David Oyelowo), a young nurse, befriends her. Before he can barely give her an injection, she offers him a job as her assistant, at $2000 per week, and they run off to her home in the south of France. The formerly pleasant Nina turns into a tyrant, demanding champagne 24/7, refusing to take the drugs that manage her manic-depression and rarely eating. With her mood swings, it's no wonder few agents and clubs will book her and when they do, she is a ticking time bomb.
In memories and recollections, the sixty-something Simone recalls her friendships with Richard Pryor (Michael Epps) and Lorraine Hansbury (Ella Thomas), her associations with Martin Luther King, Jr., and Malcolm X, her station on the frontlines of the Civil Rights movement. In present day, she is confounded that her relationship with Clifton is never more than platonic. She wants more, and clearly he can't oblige. He becomes her manager and tries to resuscitate her career. Reluctantly she goes on that journey with him.
The rights and wrongs of Saldana's performances are glaring. She infuses a rebellious nature, sadness, courage and craziness in her interpretation of Simone, successfully rekindling some of the temperamental artist's spirit. Wisely, the production does not rely on Simone's voice for the singing and lets the actress do her own vocals. Though she doesn't sound like Simone when she talks or performs, her singing is sweet and jazzy. On the other hand so much of her performance seems affected and unnatural. The same can be said of her accent, which fluctuates with the wind. And she never looks like a 60-year-old woman. Ethan Hawke created an unquestionable illusion of jazz great Chet Baker in "Born to Be Blue," without ever physically looking like the trumpet player. Saldana's acting lacks that kind of uncanny magic.