Glen Burnie expert hosts credit repair workshops
Andrea Blackstone | 5/13/2016, 9 a.m.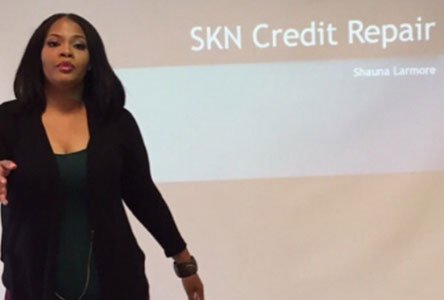 Shauna Larmore, owner of SKN Credit Services, is a Glen Burnie resident who is on a mission to remind others about the benefits of having good credit. The credit repair specialist also advises clients how to improve it. Some excited clients post snippets of credit improvement testimonials on social media, while raving about results that Larmore helped them to achieve.
Larmore will offer a series of empowering workshops to teach credit restoration and provide homeownership resources in cities near and far, through The Better Credit, Better Life Tour which kicks off on May 14, 2016 in Las Vegas, Nevada and will continue in Annapolis on June 11, 2016 at the Broadneck Community Library and at the Odenton Regional Library in Odenton on June 25, 2016.
"You have a completely different quality of life once you have good credit," Larmore said, providing an example. "And just having good credit opens up doors as far as car payments. There could be two people with the same exact car, and one person is going to end up paying thousands more because of their poor credit, so their interest rate is through the roof because they got a bad loan."
Larmore, who launched a full service credit repair business in 2014, often provides in-person consultations to local clients and phone consultations to clients across the country. Additionally, Larmore conducts informational workshops and offers a step-by-step, do-it-yourself credit repair guide that is sold through Amazon.
Operating SKN Credit Services is now Larmore's full-time profession. She originally became interested in credit repair when she was in need of credit restoration to qualify to buy a home, and noted the prices charged by of some of the large companies. Larmore remarked that the prices of SKN Credit Services are much lower and personalized plans are also provided for clients, based on their goals.
An individual's credit score is generated from information on a credit report. It may range from 300 to 850. Larmore says that there is nothing that she can think of that a person with a 700 credit score with all three major credit bureaus— Experian, Equifax and TransUnion— will not qualify for.
"The 700 Club is where you can get all of you bigger stuff, business credit and things like that," Larmore said.
Larmore says that that poor credit can be a barrier to obtaining employment.
"Your credit is even reviewed by some employers, and they use it as a way to measure how trustworthy you are. Many companies feel that you may have questionable morals if you aren't paying your debts," Larmore said. "Credit is how the world views you."
The credit repair specialist who is certified in financial literacy identified two lesser- known tips that relate to building better credit. Larmore explained that getting credit card balances below 30 percent greatly improves an individual's credit score. However, closing all credit card accounts is not the way to repair credit. It can actually hurt an individual's credit by deleting his or her credit history.