Glen Burnie expert hosts credit repair workshops
Andrea Blackstone | 5/13/2016, 9 a.m.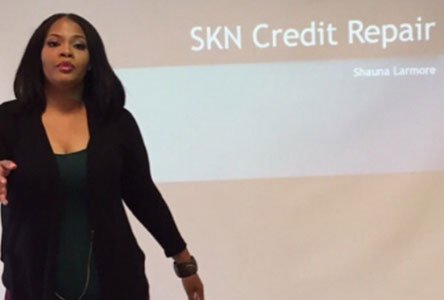 According to Larmore, very important factors in determining a person's credit score include: age of accounts, credit utilization, payment history, amounts owed, length of credit history and new credit. Larmore says it takes 30 to 45 days for her clients' credit to improve when she works with them. She added that credit repair can be time consuming and many people would rather pay to receive hands-on assistance.
"Also, many people don't know where to start," Larmore said. "I can give them the education and resources to fix it."
Tanika Johnson, an Annapolis resident, who is striving to become a homeowner says, that her credit score is steadily rising as the result of working with Larmore for a few months.
"I feel that her guidance was absolutely helpful. She gave me a lot of advice and told me things that I didn't know about credit and explained things that I didn't understand about it before," Johnson said. "She had a lot of knowledge of the "hows" and "whys" of what to do and what not to do."
To obtain more information about SKN Credit Services or The Better Credit, Better Life Tour, visit http://www.skncreditservice.com.
Online registration is now open through Eventbrite. The cost for workshops that will be held in Maryland is $30.