Bahari Sisters nonprofit helping women in Kenya
Stacy M. Brown | 5/20/2016, 8 a.m.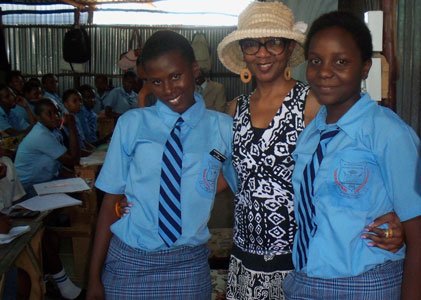 "It was an honor, as a total stranger, to be treated with the love and respect that they showed us. I returned with a new appreciation of the privileges and benefits that we take for granted living in the States," she said. "I returned having begun lasting friendships with several of the ladies."
After another trip, Jones says she prayed about what she could do to provide ongoing assistance. The answer was to form a nonprofit, she said.
"I began the process of establishing Bahari Sisters Inc. It took a while to decide on the name. Bahari means ocean in Swahili. That is our channel of connection, across the ocean," Jones said.
The mission of Bahari, includes strengthening women in Kenya economically, spiritually and physically, Jones said, noting that Bahari puts every dollar to good use and a little goes a long way in Nairobi.
"Bahari supports (Kenyan activist) Jane Muthoni in her work as a community leader, cleaning up raw sewage in the Gatina slums. These efforts prevent disease and death," Jones said. "The HabiHut will provide clean water impacting the outbreak of cholera and malaria. Most recently during the flooding in this month, Jane was able to purchase medicine for an ailing 90-year-old woman who was stranded in her tin home, surrounded by water."
For more information, visit www.baharisisters.org.