Freddie Gray verdict: Officer Edward Nero not guilty
Edward Nero sobbed upon hearing not guilty verdict in Freddie Gray case
Eliott C. McLaughlin and Aaron Cooper | 5/24/2016, 10 a.m.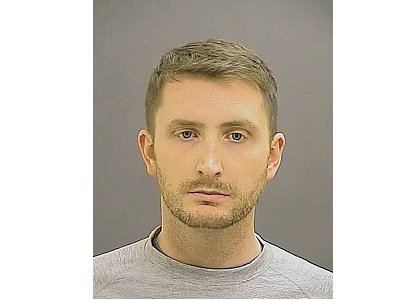 BALTIMORE (CNN) — Perhaps no one found Baltimore police Officer Edward Nero's not-guilty verdict Monday so surprising.
But to hear the families of Nero and of Freddie Gray, the young black man who Nero was accused of assaulting, both lauding the judge who handed down the decision? Surely no one saw that coming.
While Nero released a statement saying he and his family were "elated" with the ruling, Gray family attorney Billy Murphy, too, applauded the decision, saying, "You can't convict people unless you know the evidence," and that Judge Barry Williams had followed the law as he saw it.
After a bench trial, Williams found Nero not guilty of all charges in connection with Gray's death last year.
Williams took 20 minutes to read the decision to a packed courtroom and near-capacity overflow room. Wearing a dark, three-piece suit and tie, Nero nodded as Williams said there was no evidence to support each individual charge and tilted his head back in relief after the judge read the verdict. He then put his head down and sobbed.
Nero, one of six officers charged and the second to be tried in the Gray case, was accused of second-degree intentional assault, two counts of misconduct in office and reckless endangerment.
Nero was one of three bike officers involved in the initial police encounter with Gray that day in April 2015.
About a dozen or so protesters surrounded and chanted at Nero's brother as he left the court. Sheriff's deputies escorted him into a parking garage.
The verdict, which drew mostly outrage on social media but praise from police and the Gray family attorney, brings perhaps only a sliver of resolution to a city that seethed with unrest over the death last year of the 25-year-old prisoner. Four more officers' trials are slated to take place.
Praise on both ends
Lt. Gene Ryan, president of Fraternal Order of Police Lodge No. 3, said in a statement that Nero was pleased with the verdict but concerned that five other officers, Nero's "good friends, must continue to fight these baseless accusations."
Ryan accused State's Attorney Marilyn Mosby of leveling charges not as the product of a "meaningful investigation" but as a response to riots in the city after Gray's death. in the process, she "destroyed six lives," Ryan said, as well as the relationship between the Baltimore Police Department and her office.
"None of these Officers did anything wrong," Ryan said in his statement. "Officer Nero is relieved that for him, this nightmare is nearing an end. Being falsely charged with a crime, and being prosecuted for reasons that have nothing to do with justice, is a horror that no person should ever have to endure."
A statement from Nero's lawyer echoed some of the same points and also used the word "nightmare" to describe Nero's prosecution.
"The State's Attorney for Baltimore City rushed to charge him, as well as the other five officers, completely disregarding the facts of the case and the applicable law. Officer Nero is appreciative of the reasoned judgment that Judge Barry Williams applied in his ruling," said the statement from defense attorney Marc Zayon.