Rams star hails LeBron James as 'perfect' NFL quarterback
Motez Bishara | 11/4/2016, 6 a.m.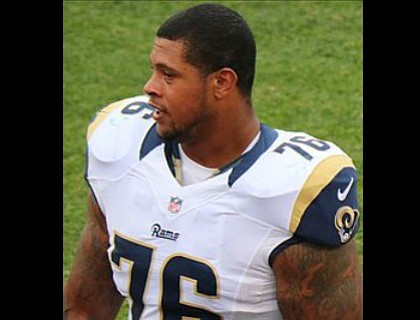 (CNN) — LONDON - Los Angeles Rams offensive lineman Rodger Saffold says basketball star LeBron James would shine in the NFL -- but has tough words of warning too.
CNN caught up with the 6-foot 5-inch Ohio native, who is in his seventh NFL season, when the Rams visited London to play the New York Giants as part of the International Series.
He shared his thoughts on the game, staying in shape and balancing sport with family life -- but first he addressed speculation about how three-time NBA champion James would fare if he played football.
What do you think of LeBron James as a potential NFL player?
"I think that LeBron has the ability to do it. But the only problem is that it's so physical in the NFL that if he played wide receiver and he got one of those routes in the middle of the field -- and somebody hit him as soon as he caught the ball -- I don't know if he would like football very much."
What about as a quarterback?
"At quarterback I think that he could do extremely well. He's very agile, very fast for a big guy. He'd be able to shed tackles and throw the ball down the field. That would actually be really good."
And at 6 foot 8 inches...?
"Oh man, yes, he'd be able to see over the offensive line. That would be perfect. No high snaps."
Who was your offensive line idol growing up?
"I would have to say Orlando Pace. My father (former University of Iowa player, Rodger Saffold Sr.) and Orlando both wore #76 and I've been wearing the same number ever since I can remember."
And Pace was a former Rams great. Have you met him?
"Yes, the first time was when I was 12 years old. I remember seeing how much food he ate, and just thinking that was amazing."
Do you try to maintain a certain weight during the season?
"Yes, normally I weigh around 320 pounds (145 kilograms). This year I've chosen to be a little bit lighter just to be more conditioned when moving down the field and I think that it helped me a bunch."
How do you make sure you're staying the same size during the off season?
"I think staying as fit as possible is the best way. You don't want to get below 300 pounds. When you get that light that it's a little bit of a problem -- especially in the bull-rush department. So I pretty much stay between 305 and 315 pounds, and get as lean as humanly possible by lifting weights and running."
What sort of food do you like?
"Salmon is an awesome source of protein; it's very light. You can eat a bunch of it and it's just truly good for you. My favorite food is pizza and burgers, and I can't have that all the time."
What is the biggest challenge you face maintaining a high level in the NFL?