Instead of detention, these students get meditation
Deborah Bloom | 11/8/2016, 6 a.m.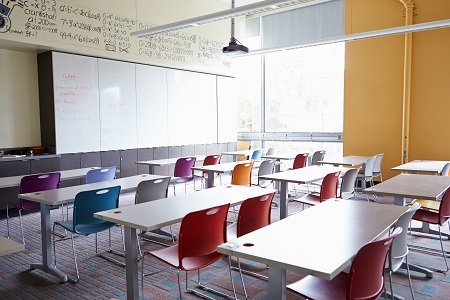 BALTIMORE (CNN) — Into a room of pillows and lavender, an elementary school student walks, enraged.
He's just been made fun of by another student, an altercation that turned to pushing and name-calling. But rather than detention or the principal's office, his teacher sent him here, to Robert W. Coleman Elementary School's meditation room.
"I did some deep breathing, had a little snack, and I got myself together," the boy recalled. "Then I apologized to my class."
He's one of many children who simmer down in what this West Baltimore elementary calls its "Mindful Moment Room," a warm, brightly lit space strewn with purple floor pillows, yoga mats and the scents of essential oils.
Kids here stretch, do yoga and practice deep breathing. More important, staff say, they build an ability to be mindful and calm. And in the face of so much adversity, some of these children are coming out ahead.
"When I get mad at something or somebody, I just take some deep breaths, keep doing my work and tune everyone out," said Dacari Crawford, 9. "It gives you good confidence when you need to do something important."
Stressed and struggling
Almost a quarter of Baltimore residents are living below the poverty line, according to US census data. And at Coleman -- just blocks from where people took to the streets after the death of Freddie Gray last year -- more than 80% of students qualify for free or reduced lunches.
"Some of our children are homeless. Some of them come to school from situations where they don't have lights at home, or food. They see crime occur in their neighborhoods," Principal Carlillian Thompson said. "So we're trying really hard here to make this a place where children feel safe and where their needs are met."
Staffers employed with the Holistic Life Foundation, the nonprofit behind Coleman's Mindful Moment Room, say they occasionally work with students whose parents are incarcerated. Sometimes, students are living between boarded-up row houses -- of which, in Baltimore, there are many.
"I've had a kid come in and look at me straight in the face with no emotions and say, 'my grandfather got shot yesterday,'' said HLF co-founder Andres Gonzalez. "So you can imagine what these kids have to face."
'An oasis of calm'
Students who are disruptive in class are sent to the Mindful Moment Room by their teachers. There, foundation staff members encourage them to talk about what led to their dismissal from class, and then they sit down for some breathing exercises. They're instructed to close their eyes and inhale and exhale deeply.
A fifth-grade boy has just been sent in for being rowdy during his math lesson. Foundation staff member Michelle Lee instructs him to shut his eyes and take several slow, deep breaths. "Do you feel calmer?" Lee asks after a few minutes. "Yes," the boy responds, nodding.
He then goes back to class. The next day, he returns for more breathing exercises.