11/19/16: Weekend HBCU RoundUP
Phinesse Demps | 11/21/2016, 1:15 a.m.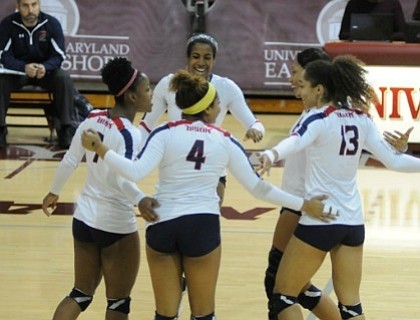 BALTIMORE,Md. — Saturday, November 19, 2016
Howard University Women's Basketball Downed By Michigan
ANN ARBOR, Mich. -- The Howard women's basketball team couldn't keep up with Michigan's hot offense in a 109-41 loss on Friday night at Crisler Arena.
The Bison are 0-3 on the season as the Wolverines improve to 3-0.
For the third straight game, redshirt senior Te'Shya Heslip was the top scorer for the Bison behind 10 points. She also had five rebounds and four steals.
Freshman Ayonna Williams and senior Sydni Johnson put up nine points each. Rookie Jayla Myles pulled down a career-high seven rebounds. Junior Tajzhane Dopson was a perfect 4-for-4 at the charity stripe.
As a team, the Bison shot 63.2 percent (12-of-19) from the free throw line.
Howard scored the first six points of the game on layups by Heslip and freshman Imani Bryant and a jumper from Johnson. Unfortunately, Michigan would go on to score 52 unanswered points over the next 14:05 between the first and second quarters. Michigan had a 64-19 lead at the half.
The Wolverines had three players in double figures, paced by Katelynn Flaherty with 24 points.
The Bison will prepare for Cornell on Tuesday, Nov. 22 at 7 p.m. in Ithaca, N.Y.
Howard University Women's Volleyball Advances To MEAC Semifinals After Sweeping N.C. Central
PRINCESS ANNE, Md. – The Howard volleyball team extended its win streak to 14 matches as it cruised to a three-set victory (25-11, 25-17, 25-18) over N.C. Central in the quarterfinals of the 2016 MEAC Volleyball Championship on Friday afternoon in Hytche Athletic Center.
Junior Khaila Donaldson posted her 11th double-double of the season thanks to 10 kills and 11 digs. Classmate Jessica Young was right behind her with nine kills, while seniors Dominique Cleggett and Katherine Broussard had seven kills apiece.Sophomore Tamia Dockery added 20 assists to the stat sheet and senior Briana Jackson finished with 13 helpers.Defensively, Broussard led the charge with a team-high 12 digs, followed by senior Morgan Marlbrough with 10. SeniorWhitney Fields was a force at the net for the Bison, coming up with six blocks.
Howard hit .320 as a team and once again proved it has one of the toughest defenses in the nation as it held the Eagles to a .010 hitting percentage.NCCU burned an early timeout as the Bison opened the match up 8-5. After the break, Howard went on a 10-4 run, which included block two kills and a block by Donaldson and a pair of kills from Young. Cleggett put together a block and kill combo to extend the advantage to 22-10. Classmate Janaya Hampton served up an ace and Young followed up with her fifth kill to take the set, 25-11.
Fields made her presence known at the net with three blocks and helped Howard double up on the Eagles to start the second set with a 12-6 lead. The Bison called for time after NCCU pulled within four, 16-12, on three HU errors. Freshman Kira Porter was ready at the net for a quick put back and strong kill to end the set, 25-17.