11/19/16: Weekend HBCU RoundUP
Phinesse Demps | 11/21/2016, 1:15 a.m.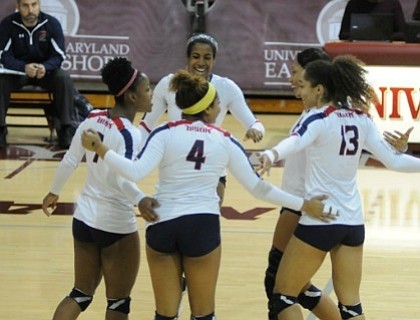 continued — It seemed that NCCU regrouped during the 10-minute break between sets as it went up 7-4 to get play started. Donaldson came through with a kill and Broussard recorded an ace for a 9-7 lead. The Bison kept pounding from there, jumping ahead 20-13 thanks to multiple NCCU errors and kills by Young. The Eagles were able to pull within five, 22-17. The momentum didn't last long as Donaldson put the ball down hard and Porter had an ace to close the set, 25-18.Kelsey Murphy was just shy of a double-double with 10 kills and nine digs for NCCU. Paige Phillips handed out 18 assists and Bree Simmons tallied a match-best 13 digs.
Sunday, November 20, 2016 Morgan State Bears football Collapse at Army West Point
The Morgan State Bears lost at Army West Point by a final score of 60-3 on Saturday at Michie Stadium before an announced crowd of 28,290 fans.
Army's triple option, which stalled badly in a 44-6 loss to Notre Dame a week ago, returned to form against an FCS defense that came in allowing 32 points per game. The Black Knights scored on their first two drives and led 29-3 by
halftime.
The nation's No. 2 rushing offense wound up with 504 yards, 561 total yards, as Army clinched its second six-win season since 1996.
Bears Men's Basketball knock off Campbell, 82-66
BALTIMORE, Md. -- Junior guard Tiwian Kendley recorded a career-high double-double with 28 points and 11 rebounds to help lead the Morgan State Bears to an 82-66 win over the Campbell Fighting Camels on Saturday afternoon at Hill Field House.
Bethune-Cookman Women's Volleyball Team Sweeps Morgan State In MEAC Quarterfinal
PRINCESS ANNE, Md. (Nov. 18, 2016)-Bethune-Cookman's Phylecia Armstrong finished with a match-high 11 kills and Alana Handy tallied a match-high 15 digs to lead the Wildcats to a 3-0 (25-17, 25-13, 25-12) sweep of Morgan State in a quarterfinal match of the Mid-Eastern Athletic Conference (MEAC) Volleyball Championship on Friday morning at the Hytche Athletic Center.
Bethune-Cookman (10-20), who was the second-seed out of the southern division, advances to Saturday's semifinal round, where it will face the winner between defending tournament champion and top seed in the north, Howard and North Carolina Central, who earned the southern division's fourth seed.
Friday's victory was the third straight over Morgan State and Bethune-Cookman's fifth in the last seven meetings with the Lady Bears. The Wildcats have now won four straight MEAC tournament meetings against the Lady Bears to even up the tournament series at 4-4. Morgan State still leads the all-time series, 14-7.
Coppin State University Samuels Drops Season-High 18 Points at No. 21/25 West Virginia
MORGANTOWN, W.Va. - Senior guard Keena Samuels scored a team season-high 18 points in a 69-39 loss to No. 21/25 West Virginia University on Saturday, Nov. 19 at WVU Coliseum.
Samuels' 18 points was the most by an Eagle this season. She was a perfect 4-for-4 from the free-throw line, grabbed seven rebounds, made six steals and had two assists. Sophomore Alexis Taylor led the bench scoring with six points and three rebounds. Red-shirt senior Tiara Gooden recorded a season-high seven rebounds and red-shirt junior Genesis Lucas scored five points and had five rebounds.