Usain Bolt: The man behind the medals
11/24/2016, 6 a.m.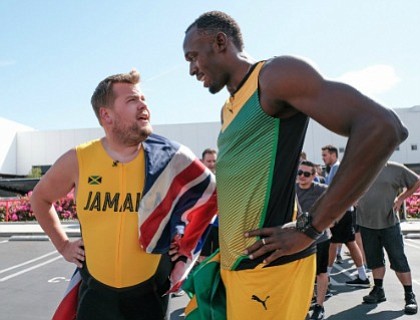 (CNN) — Behind the showmanship, the blur of fast times and the resultant gold rush, who is the real Usain Bolt?
The world's fastest man has committed to just one more track season before he hangs up his racing spikes in London -- a place he calls his second home -- at next year's World Athletics Championships.
But before putting his slightly ailing body through a final onslaught of winter training, a movie documentary plotting his path to a third and final Olympic sprint treble at Rio in August will be released globally in cinemas next week.
"I Am Bolt" is the brainchild of British brothers Ben and Gabe Turner, whose directing show reel includes "The Class of '92" -- the story of Manchester United's fabled footballers -- and "In The Hands of the Gods," which follows a group of young men seeking to meet Diego Maradona.
They were given unprecedented access to the Jamaican sprint legend -- the film opens with Bolt ironing his clothes.
It highlights the occasional boredom of being locked away in a hotel room for much of a season, as he flits from driving a speedboat and quad-bike racing to singing on a Segway when unable to sleep in the middle of the night.
'Everyone knows Bolt'
Among those to feature are Justin Gatlin, arguably Bolt's greatest rival and the man who has come closest to toppling him from his sprint hegemony.
"Bolt's the ultimate showman," Gatlin tells CNN. "We've never seen anyone like him. He's done so much for the sport.
"When you think of football, you think of Messi and Ronaldo. With basketball it was always Michael Jordan. You mention track and field, and most people's first thought is Usain Bolt. Everyone knows Bolt."
Gatlin has lost count of the post-race press conferences at major championships where, vanquished again, he has sat alongside Bolt under the media spotlight.
What pervades first and foremost is a genuine mutual respect between them. A telling moment of the film is Gatlin's insistence he would win Rio gold -- and Bolt admitting it was the catalyst to motivate himself when struggling in pre-Games training.
"I remember watching the Beijing Olympics in 2008 when I was out," says Gatlin, who was serving a drugs ban at the time. "I watched him and remembered thinking I wanted an Ali-Frazier rivalry, and I wanted to push him to get to the top of the podium."
'Sprinting's about the alpha male'
If Bolt's career had not coincided with Gatlin's, the American could have won many more global titles. So does he regret that his career timed with that of Bolt at his peak?
"No way man," he says. "I've had rivalries before that push you, like Tyson Gay and Asafa Powell, and then there was Bolt. But if he wasn't there I wouldn't have been consistently running 9.7 or 9.8 seconds.
"He brought that out in me. He's such a great competitor, he always brings his 'A' game, and I've enjoyed that so much."